Mechanaflux #2 – From Screenplay to Comic Script to Thumbnail to Pencil to Finished Art
For Mechanaflux #1, I had put the transition from the original screenplay to finished comic book to show how Mechanaflux changed between all the versions. This time, I'm going to chose a page from Issue #2 and do that again. This page is the arrival of Redwing the dragon from my initial draft.
---
ORIGINAL SCREENPLAY
Five more Mecheers emerge to their left as they run by a building.
Jackson, Cory, and Arad pick up their pace and run closer behind Gluss, Darius and Maria. They reach the edge of the town and run into the Metal Plains. From behind, they see over fifty Mecheers marching toward them.
JACKSON
How are we supposed to avoid so many of those things?
ANGLE ON: Ariel shot of the group with sunlight shining on them. A shadow covers them as something flies over their heads, then leaves.
DARIUS
We don't.
A giant red dragon (four stories tall) hovers above the ground, then lands in front of the group. The dragon's neck sways upward and coughs. He coughs again, then fire breathes from his mouth into the air. Jackson, Arad, and Cory stare at the dragon, eyes wide open. Jackson covers the boys as if the dragon will attack them.
As the dragon lowers his head, the boys notice that he wears glasses. The dragon speaks with an intelligent British accent.
REDWING
That insidious metal dust can't be good for my lungs.
REDWING
Darius old friend, I see you've gotten yourself in a spot of trouble. Take cover.
Darius, Gluss, and Maria run behind Redwing's leg. They motion for the others to follow. Arad, Jackson, and Cory look at the dragon. Then, they look at the army behind them. They immediately run behind Redwing.
Redwing summons a breath in his throat, then lets loose a humongous amount of flame.
ANGLE ON: The Mecheers walking forward toward Redwing as fire engulfs them all. The camera pans back to show more Mecheers, and even some buildings, getting taken out by the fire.
Redwing breathes smoke from his mouth then moves his hand up to his face.
REDWING
One day Darius, I hope you won't need my violent skills.
REDWING
Gluss, are you alright?
GLUSS
I'll be fine.
REDWING
And who are these young friends of yours?
Redwing walks away from them, turns his body around, then lays down so his head will be closer to them.
END SCREENPLAY
---
After Redwing appears, he suddenly attacks the Mecheers. What, did he destroy all 50 of them I mentioned? Later, I'd make them run away, because Redwing couldn't be all powerful in the plot (as seen in Issue #3). Plus, him attacking the Mecheers in my comic in 3 different instances would get repetitive. Also, my dialogue continues for 2 more pages. I won't bore you with it, but will tell you most of it was cut.
---
COMIC BOOK SCRIPT
Page 6
5 – Arad, Jackson, & Cory are now standing at the edge of town, in the Metal Plains. Buildings are at least 100 yards away from them.
JACKSON: This is ridiculous.
6 – Jackson turns toward where they ran. In the distance, there are at least 50 Mecheers walking toward them.
ARAD: Come on, how are we supposed to avoid so many of those things?
7 – ANGLE ON: Ariel shot of the group with sunlight shining on them. However, there is a dragon shaped silhouette directly above them.
8 – CLOSE-UP of Darius' face. She is smiling, while still covered by the shadow above.
DARIUS: We don't.
Page 7
EXT: TOLT – OUTER EDGE OF THE CITY – (METAL PLAINS)
1 – A giant red dragon (Redwing) appears before the group. Redwing wears glasses. Redwing shouldn't be so large that he appears as if he can take anything. He should be smaller than most sizes you see on dragon books (or Dungeon & Dragon's manuals)
2 – Redwing coughs. Some fire emerges from his breath, but doesn't reach the ground. It stops short of Arad, Jackson, & Cory, scaring them.
3 – Jackson acts like a protective older brother and uses his hands to block Cory and Arad from going near the dragon. Arad looks amazed. Cory looks confused. Jackson looks defensive.
4 – Redwing's head is now lowered toward Darius.
REDWING: Sorry about that old friend, but flying through the Metal Plains is bad for my lungs.
REDWING: I suggest you climb aboard before those metal heathens get clos…oh, no.
5 – Redwing raises his head and turns away from the city, looking past Arad, Cory, & Jackson.
REDWING: A rust storm. Everyone, get on quickly.
6 – Close-Up of Cory, Arad, & Jackson looking frozen in terror.
Panels 7, 8, & 9 are the same long line and should be together at the bottom. One of the kid's heads should be at the bottom of each panel.
7 – To the left, on Panel #7, an army of Mecheers approaches them.
8 – Directly in front, is the giant Red Dragon.
9 – To the right, is a piercing metallic storm tornado.
I had considered putting blue energy (Darius' sleep spell) seeping and increasing with each panel.
END COMIC BOOK SCRIPT
---
The original wasn't dramatic enough. Redwing met the cast outside the city, and it was supposed to indicate that the Mecheers were on their way, but not so close that they can't all talk for a bit. I increased the the intensity a bit by having them coming closer quicker. Then, in the actual comic below, you will see that the Mecheers were just already in their face. I did just notices that both times I had Redwing cough fire and scare the kids, but there wasn't enough space to do this in the actual pages. He also didn't acknowledge Gluss' injury, but then that was very minor and not important enough to keep.
---
THUMBNAILS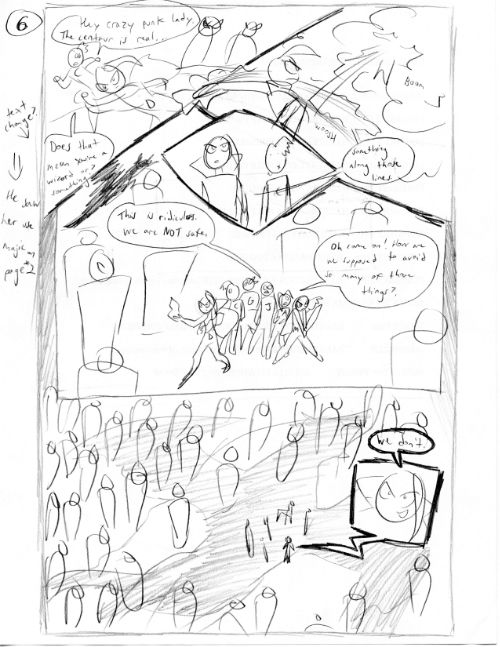 I then wrote on the thumbnails some small corrections. My biggest concern was how Redwing was going to talk to them after landing if they were completely surrounded by Mecheers. Solved that by having him land directly over them and causing a shockwave that knocks most of them down. Hopefully he doesn't appear too powerful, as his skin isn't immune to the Mecheer's blasts. Also, after this phase, my artist thought of a way to make the final panels more suspenseful, which we'll see next week.
---
FINAL ART
Here are the final pages (minus the lettering). Hope you enjoyed this step-by-step journey.