Video Game Review – Granstream Saga (Playstation)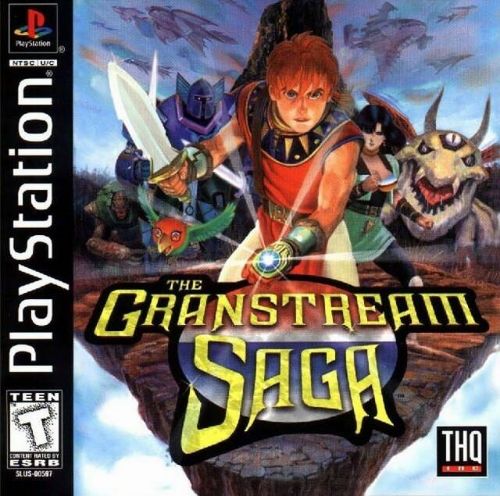 Granstream Saga – North American Cover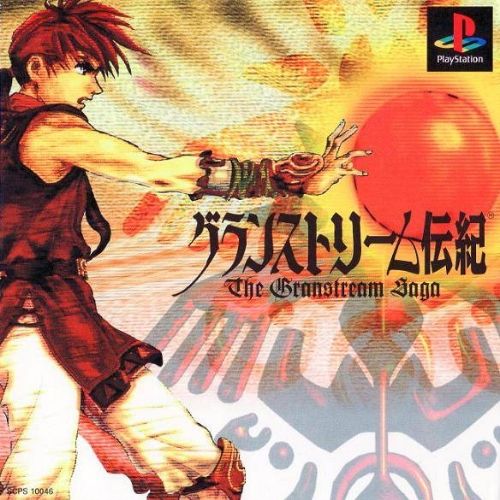 Japanese Version (the Euro version just has more logos blocking the art)
Grandstream Saga is an exciting action/adventure game with some RPG elements.
In the world of Grandstream, there was a war between the Imperial Wizardry (evil) and Allied Spirit Army (good). The Imperial Wizardry used a weapon both sides had agreed not to use, but weapon was miscalculated, and it shifted the axis of the world, causing the ice caps to be on the equator, melt, and flood the world. Before the world was destroyed, 4 Wise Men created 4 gems and created 4 flying continents. Every few decades, these gems must be recharged or the continents slowly sink toward the water below.
It is now 100 years later, and the wise men's descendants are missing. Your home continent of Shilf is slowing descending toward the water. Your father is cutting off parts of the flying island to slow its decent. However, Eon (you) spots a bird's nest on the falling piece of land and risks his life to save it.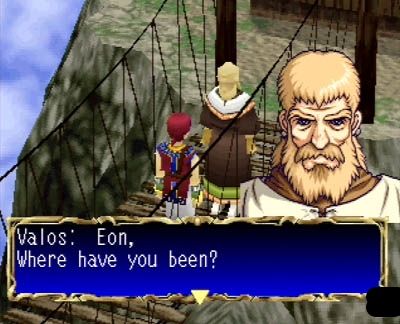 I was busy risking my life to save baby birds so the player knows I'm pure of heart.
What later starts out as a search for a missing boy leads you to discover your powers to recreate items from scraps with a magic bracelet you've had since you were born. It never displayed any magic until now. From there, you learn the Imperial Wizardry never truly died. They have kidnapped the wise man's descendant, Arcia. You smuggle yourself about a pirate ship that's going to trade with them to try and rescue her. It is there you meet Laramee and her spirit bird Korby. Laramee helps you board the Imperial ship, as she is inspired by your heroism to save someone you've never even met. It is on this mission the stakes are raised, as you learn you must seek out a magic verse for Arcia to sing at each continent to recharge the magic of the continents to keep them afloat before all of humanity is extinguished forever.
But first, in the middle of that story, something rare happen (for American video games of this time). You are smuggled into a treasure chest placed in Laramee's room, and you open it up to see this:
There is no nipple, so it's not nudity.
I don't know how this was approved during translation. But, the game is really G rated, with only some serious themes popping up at the very end, but they made sure you knew this scene was there; it's even on the back of the game box.
The characters have fun interactions together. Kobry the spirit has a fun antagonist relationship with Laramee, and he has many comedic conversations with Eon (especially if you try to search through a bonfire for secret items). The tone is very good at mixing a light-hearted feel between the characters with serious disastrous events going on (the storyline about the religious cult on the 2nd island being my favorite story). The last dungeon quickly gets very serious, and not every character walks away from this game alive.
You have an overhead map screen. You can rotate the map in any of the 8 compass directions. I usually just keep it pointing straight North. Your character actually walks relatively fast, so I already like that I don't have to take forever to get anywhere.
You can wander around towns and talk to people, and sometimes you need to talk to a particular person to progress the plot. In addition, there are items shops which you can use to buy herbs to heal your Life Points, and Magic to increase your Magic Points (both are always slightly random, but you learn to figure out the average the more you use them). You heal and save games in churches, and healing yourself is free. There are weapon shops, but for some reason, something always prevents you from buying items at them in each town. The reason for this is because you have to find all the weapons in the game yourself, so they pretty much just exist to screw with you and your RPG expectations.
The is an action game. When you run into an enemy on screen, you quickly go into a battle screen (it is only 1 second by the way—-no long loading times). The screen expands for battle, but it adds some black barriers to prevent you from going too far away (you can never run away from battles; one of you has to die). You hit Circle to block, and you can block attacks and take no damage. However, if an enemy's weapon starts to glow purple, they can break through your block; you need to dodge or attack them quickly to interrupt them.
Another fun and helpful ability is that when you block, your character automatically faces the villain no matter where he goes on the screen. If you aren't blocking, the enemy can move left and you will still be staring at a wall unless you turn around.
Your movements are slower now in battle compared to when you were walking. Luckily, you can tap the control stick in any direction to make a fast dash out of the way. Sometimes you can dash a few times to get behind an enemy who is blocking to attack them where they are unprotected.
You hit Square to cast magic and X to attack with your weapon. You can chose between a dagger (low damage, fast speed), a sword (average damage, average speed), and an axe (high damage, slow speed). Along the way, each weapon will obtain 3 different secret buttom move combinations that must be input with 3 button input on the control stick followed by the attack button (but enemies can still block it). It makes your sword glow purple followed by a 2 or 3 prong attack. It is really useful to use these to save time when fighting enemies with really large heath bars, as each enemy (and you) have multiple EP bars, which each represent a full Life Bar. When one life bar is gone, you lose one EP and another full Life Bar appears. Luckily, if you only have 5 hit points left in your life bar, and are dealt 100 hit points of damage, you will only lose 5 Hit Points; the damage doesn't carry over to the next EP bar. The only exception to this when you attack the enemy with YOUR super move (so, a trade-off for them being able to block your super-moves).
Some enemies have a shield like you do, preventing all damage with a block (they even block your super moves, which you can't do). Luckily, after a few swings, you can knock an enemies' shield off, but you have to be quick to stand between them and the shield. If the enemy is near the border of the screen, the shield will just fall right under them and they will pick it up immediately, so it's best to lure them near the center of the battlefield.
You really start to hate all enemies with shields (yes, I know he doesn't have one).
You have to learn each enemies' weakness. For instance, in the first dungeon, the metal guards should be attacked with the dagger, because you can kill them without getting hit because you're too fast for them. But with later guards in that level, you should never use an axe because they are too fast to ever land in a hit.
You can also run…at the enemy. If you run directly at the enemy, you can temporarily stun him, even if they have their shields up. However, you have to back up quite a bit, which will prompt them to use their long range attack. You have to study their movements and wait for the right opportunity to use this. This is the most useful skill in the game in my opinion.
The game is very challenging, too. I was always low on healing herbs and magic replenishment. It felt tense not knowing when the end was, and if you had enough energy or herbs for the enemy battles. Each battle is a risk, especially when you don't know their movements and weaknesses for the weapons or how big the dungeon is. Money is also scarce, so you can't go battling creatures for money because money is rare (which makes you struggle with what to buy at the shops)
However, one thing I hated was a dungeon you teleport to that you can never go back into. I forgot a sword there that I can never get again. I actually reset the game and replayed the first 3 hours to get it because it gave me 3 attacks at once instead of 2, and I didn't feel like playing through the game on a harder difficulty.
My most hated enemy (in the first dungeon, by the way) was the turtle-like creatures with blades for hands. Not only are they faster than you and anyone else in the game, they have twice the range, charge at you with spinning blades, and jump over you when you're about to attack. They take a long time and are very annoying. Luckily, I can shoot them with fire three to kill them (when I actually have some magic power).
You will get magic throughout the game, but you have to actively seek it out, and some are purchased at a shop by buying a mysterious stone. You have spells for outside battle such as teleporting back to the front of the dungeon, healing, and freezing an enemy so you can move by them. You also have battle magic, which is the normal fire, ice, and lighting type attacks, but you also get spells to temporarily increase your defense and attack power. However, some enemies later in the game block spells as easily as regular attacks, but luckily the early enemies can't so well.
Another odd departure from traditional RPGs is that you don't level up after a certain number of battle victories, but at certain parts of the game. There is no need to fight everything in sight. The game can be much shorter if you do this.
Interestingly, no one has faces. Their character models have really detailed clothes, but they have no facial features, those are left to the anime portraits that appear when some of them talk. This game was apparently one of the first video game to use fully polygonal backgrounds (instead of 2D backgrounds) Also, anime cutscenes are shown at many parts of the game. I really enjoyed these.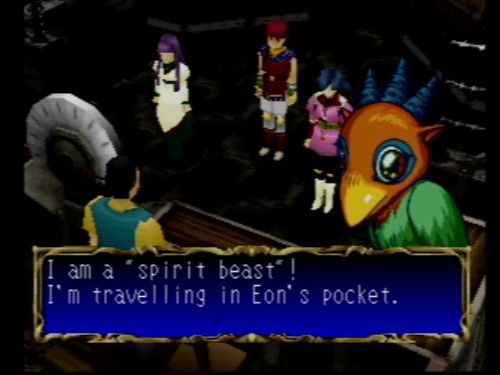 Notice how no one has a face on their character models.
The game rewards exploration. You must look everywhere to find better weapons. Usually, you'll be fighting tough enemies, and finally, 75% of the way through the dungeon, you'll find a fire sword that makes fighting the ice enemies in that dungeon much easier. Getting to defeat them in less time after taking a long time to defeat them previously feels very satisfying.
Music: 10 out of 10
The music from the first level stuck in my head after the game. As I played further, I realized I actually wanted the soundtrack to this game. The music changes to match the tone of each level (for the towns and the dungeons).
Challenge: 10 out of 10
It's a medium challenging action adventure, and feels that way pretty much from beginning to end. It never really spikes to too easy or hard.
Fun: 20 out of 20
I was pretty addicted to this game. The battles were fun and challenging, making every single enemies a challenge rather than a 'Tap A To Attack And Win' fight.
Control: 10 out of 10
The controls are simple, and being able to use your dash in any direction really helps in battles. The three weapon types all have their own feel to them, as does each magic spell. I never had any problem with the controls interfere with my enjoyment.
Graphics: 8 out of 10
The graphics are really bright and everything stands out very well. Everything is
Extras: 0 out of 10
There are 2 secrets. One is finding the hidden shopkeeper who will only sell you things in Bronze, Silver, or Gold (items you get from treasure chests throughout the game), but he can give you better weapons when you need them. The 2nd secret is one I hated. You see, I forgot one important part of the game that I skipped in the actual game. When you defeat an enemy without getting hit and without using magic, you get a Specter Force. If you open it, it's a weak item. But, if you chose to copy it, you then can try and defeat the next enemy without getting hit. Hidden this way are 6 Spirit Cards
I gave up on this after an hour or so of frustration. You have to do this 8 times to get the last card. However, getting any of the other 5 cards is random. If you unlock the 5th Scepter Force, for instance, you get one of 5 items, only one of which COULD contain the card for the 5th time. Most enemies are impossible to fight without getting hit at least once or twice, even with better weapons and armor. Luckily, you can skip this, and it does nothing to hinder you in the game.
Replay Value: 2 out of 10
Unfortunately, this is where the game struggles. After you've beaten the game, you've played all there is and there are no real side quests. Granted, it's about 30 – 35 hours, but this is one of those games you play once, and then maybe you'll play it again in 5 years once you've forgotten how cool it was.
Bonus:
+10 Anime Cut Scenes
I really liked the anime cutscenes. They brought more life into the characters and showed them with more emotions than the text could. Not to mention adding energy to some high-intensity scenes.
Total Score: 70 out of 90
One thing I have to mention, though, is it's focus on story. There is a lot of dialogue in the game. So much so that I felt that I only participated in battles about 50% of the game. It's not a bad thing, it's just different. The characters are interesting, but their interactions with each other are what is actually the fun part of the game. I thought the story was different than most RPG's I had played before, and in the end, the game even takes a dramatic twist that you didn't see coming (but it makes sense in retrospect given some of the plot and character backgrounds that have been spliced into the story up to that point). I was satisfied with both endings (but liked one better) once I finally defeated the boss and overall enjoyed the game enough that I would recommend it. It wasn't very popular over here upon release, so it is very cheap (under $10.00) when you can find it.
Slayzer: The Stupid Brother Of Laramee
I hate Slayzer. He is an idiot. He destroys 3 of the 4 orbs needed to power the flying islands because he thinks I'm going to use the power for control, even though he OVERHEARD OUR ENTIRE CONVERSATION about the continents falling into the sea and that the orbs are needed to kep them (and all humans everywhere) afloat. You find much later he wanted them destroyed so that the balance of the world could return to normal, but, seriously, there is no normal and it couldn't be again; all 4 islands would go under the sea, everyone would die, and there would be no humanity or land. This is where I would put curse words if I could.