Video Game Review – Metal Gear Solid VR Missions (Playstation)
*This review won third place in VideoGameGeek.com's monthly video game review contest (in which I got beat my by other review–Hydrophobia). The theme was any game rated M or above.*
Metal Gear Solid VR Mission
Metal Gear Solid VR Missions – US Cover (The EU version is just zoomed in 25%)
Back Cover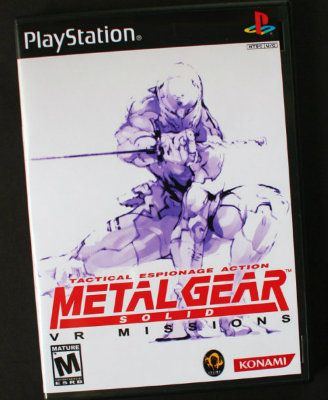 Japanese Cover
Metal Gear Solid had some VR missions being built around the game, but the designers had more ideas than would fit on the disc and decided to create a separate product for the VR missions. Thus, we have this.
Inside, there is no instruction manual, just a small art paper that unfolds for TV warnings. Booting up the disc shows you a small movie with Solid Snake (the character you play) doing many of the VR missions you are about to experience (https://www.youtube.com/watch?v=LmzUgBZZAe4).
VR Missions is set up into 4 categories: Sneaking Mode, Weapon Mode, Advanced Mode, & Special Mode.
Weapon Mode & Advanced Mode
In Weapon Mode, you are given only one of the weapons (of 8 total) along with a limited amount of ammo. You then must play through 5 levels for each gun and destroy all the targets (most of which move around). After you complete these levels, you can then complete for the fastest time in getting the level completed, where any extra ammo you have on you subtracts from your total time.
Weapon Mode can be hard on occasion because you actually have to follow targets and watch their patterns. Only knowing where they will be at certain times will make it easier to plan when and where to shoot them so you can get them all destroyed quickly. Also, just because you have that weapon, doesn't mean you can't still use your hands.
The format for Advanced Mode is the same as above, only now you fight against real people. To me, however, these humans made it easier than the targets to get the best time. For instance, on the Stinger level, the Targets come from all angles and you have to turn not only 360 degrees, but also look up and all around as the Targets fly all around the level, but the humans are on the same plane as you. Also, since Advanced Mode is people, you will get 3 seconds removed from your time if you complete the level without being seen. I will now describe each weapon and how they play for both sections since they are so similar.
SOCOM
One of the more challenging weapons to use. You Hold the Circle button to have the gun auto-aim in front of you, then release it to fire a shot. To get the best times, you have to learn how to use this because every bullet counts, and if you misfire even 1, you can lose out on 1st place. Most targets take 3 shots, but I occasionally kept shooting 4, having to reply the level again. I don't feel this weapon was made with timed attacks in mind. However, once I got to the human levels, I found it just a little bit easier.
C4
You have a C4 Explosive that you can lay on the ground, and can then detonate later. Both the Target & Human levels of this are really fun and only slightly challenging.
FAMAS
My most hated weapon in this game. It's basically a machine gun that has no aim at all. You tap the Square button to fire, and hold it for rapid fire. You can auto-target automatically, just make sure to use the control stick and not the directional controls. It was the only human mission where I died before I could even get to the time trial.
I really hate this weapon. It took me the longest to get that best times here. You basically have to cheat to win these levels. When the level starts, keep the X button held. You will now run while holding your weapon, and can fire, also. Just don't release the X button and hit it again or you will go into a crawl position, immediately ruining your chances of a good time. I don't understand why run and crawl were not separate buttons.
Grenades
The Target levels are Medium to Hard and really need you to think and strategize how to plan the grenades and their explosions (as it takes 5 seconds after you throw it before it explodes). Oddly, these levels have the biggest gap between your score and 1st place, as I constantly found ways to improve the 1st place score by nearly a minute.
Oh, but then you get to the Humans. This is the only level where the Human level is harder than the Target level. You sort of have to cheat, too, by preparing to throw a grenade, allowing yourself to get knocked to the ground. Why? When you are knocked down, you are temporarily invincible, so the grenades explosion won't hurt you, but it can take out lots of enemies.
Claymore
Place the Claymore mines on the ground (which are hidden from your view) so Humans and Targets explode when they get in front of it. If you have the mine detector (sometimes hidden in the stage) you can see the mines and what direction they are facing. You can also place them on the ground in front of you to have them explode the enemy instantly, but if a stray bullet moves you even slightly, or you tap the directional pad at all, you will walk in front it and explode, too. Though it is amusing that the AI doesn't feel the need to move when they see you placing a mine. Both the Modes are really fun for this one, and not all that challenging (expect for the final Target level).
Nikita
This is a missile that, once fired, you then control with the control pad. If it faces any direction for more than 2 seconds, it goes that direction as super-speed. You can also control it in first person, as well as make it explode whenever you want (useful when the target is just slightly out of reach).
Next to the FAMAS, these levels are the most frustrating, especially the levels with corridors you have to navigate through. It's hard to control to avoid the super-speed, so you end of wiggiling the rocket (which looks weird on screen) just to prevent an instant explosion into the wall, and in 1st person, it can be hard to tell if you're too close to a corner.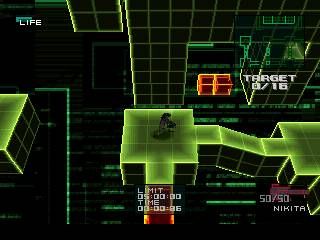 You must guide the missile up ramps to blow up the red box targets.
PSG1
This is a sniper rifle that you must use in 1st person mode. Both modes are challenging, but not to hard. The Targets still require planning ahead to know where they will be.
Stinger
This is one of the easiest weapons to use in both modes. You have a rocket launcher that is operated in 1st person, and it has an auto-target. Once the target locks, and you fire, you don't have to watch the rocket hit your target, and you can immediately go to the next target.
Sneaking Mode
There is also a Sneaking Mode, one I enjoyed a lot. It is split into 15 levels. You must do each level twice, once with No Weapon, and another with the SOCOM (both are timed). When in SOCOM, you must kill every enemy before the exit appears, but being seen instantly ends the mission. With No Weapon, the exit is already there, and you must get to it without being seen or the mission instantly ends (you don't have to kill anyone, you can just hide and run to the goal).
It's a little hard, but not too difficult. Plus, you can cheat a little here too. You can throw a guard onto the ground, and still have 3 seconds before he gets up, and by then you could already be at the exit. Plus, it doesn't count as being seen. This feels like cheating, but I feel the developers knew people would use this, as the times I got were only slightly near 1st place when doing things like this.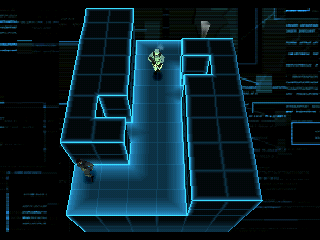 Level 1 & Level 15 of Sneaking Mode
Can you sneak past these 5 guards without being seen?;
Also, in Weapon Mode, you have to kill them all silently before the goal will appear.
Special Mode
You have to unlock this mode by getting a certain number of the game complete. These levels are all really fun and have many different game types to play. Every missions is timed, except Mystery and 1 Minute Battles.
Mystery
Through 10 levels, you have to figure out the murderer in each one by looking at 1 of 3 suspects, and choosing the right culprit and dragging him to the exit. For instance, in one, a murderer has lost his glasses at the crime scene. You have to drag each suspect away from their standing position, and whichever one walks into the wall on his way back and knocks himself down is the killer.
Puzzle
Ten (10) Puzzle based missions. These can be a tad frustrating. Some are hilarious, such as the one where you knock a guard so that he keeps knocking into all the other guards like dominoes, each falling off a ledge in the process. Some require thinking differently than you have been (or finding ways to abuse the game mechanics). The hardest was figuring out you have to plant C4 on the ground, then on a human. You have to explode it so he flies north, and once in the air, you have to explode the other grenade so it takes out the camera.
NG Selection
Eight (8) completely random and strange missions, all of which are really fun and unusual, such as World's Smallest Stage where you have to kill 1 soldier in a small 3 x 4 grid without being seen and fighting a UFO with a rocket launcher.
Variety
Ten (10) completely different missions, such as throwing grenades and people into holes, punch-killing invisible soldiers, and fighting giant sized guards.
You heard that last sentence right; giant guards. Not pictured: UFO battles.
1 Minute Battles
You have 1 level for each Weapon I've stated before, as well as No Weapon, with each of these having two levels; 1 for Targets, 1 for People. The goal is to kill as many Targets or People within 1 minute to get first place.
Vs 12
You start with a completely different weapon set and limited ammo for each level (You are only given 3 max of each weapon except for rare instances with the SOCOM), and must kill 12 people within a time limit. This is really hard to figure out as each weapon usually causes an alarm. One of the most frustrating categories.
VR Mission
You have to complete 10 levels, back to back. You have to incorporate everything you've learned into these 10 missions and beat them all in 7 minutes to get first place. Having a few more combination missions like this would have been really fun.
Ninja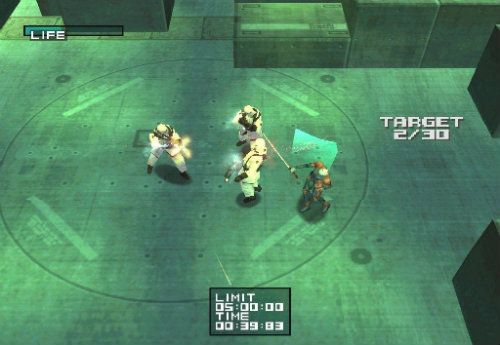 As the Ninja, you can take all 3 of these guys out in 1 second
These are 3 really fun levels where you control the Ninja and slice and dice your way through guadrs. The only thing that's missing is that this would have been a lot more fun with just a few more levels.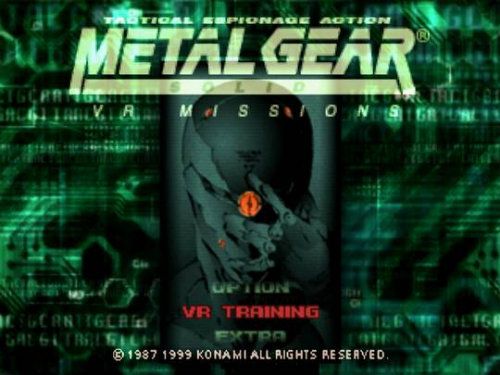 Final Breakdown
Story: N/A
There isn't one.
Music: 2 out of 10
The music is repetitive, as you will hear the same background music for each individual mission, and the same sound effects at the beginning and start of each mission.
Graphics: 5 out of 10
The graphics are just grid based for most of the levels. The only exception is a mystery level or two which takes place in a fully decorated room. Most graphics are just used from the main game, with nothing new really added. However, the graphics do look decent for what they are.
Fun: 18 out of 20
This game is made just to test your reflexes and brain, and it's really fun to do the main levels, and though occasionally frustrating to get the best times, is still worth the playthrough. I found myself liking the Special & Sneaking levels more than the ones with the weapons.
Extra: 10 out of 10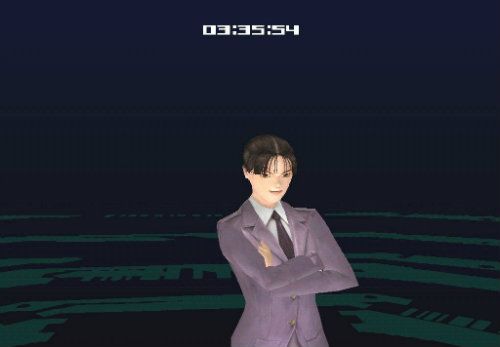 This is seriously a special feature; taking pictures of polygon girls.
The rumor of this game is that it's only rated "M" because you can take a picture of her panties
Unlockables include, strangely, photography rooms. You have 3 rooms where you can photograph a girl at her desk, a girl standing, & another girl standing. You can get closer to her the more you play the game. I don't really understand the point of this, especially since a picture takes up an entire block of memory (not to mention just being creepy).
Also, you have 3 trailers that Konami made for Metal Gear Solid shown in 1997 before the game was released. Also, there's the intro movie at the start, and a demo movie with the programmers beating missions certain ways to give you hints, if you wait at the starting screen long enough.
Controls: 9 out of 10
The controls are simple, you move with the directional pad, duck with X, run with X if you hold it, hold R2 to access your weapons, and hold R1 to access items. However, once you pick up a weapon, each one has a different control scheme (see Weapons above) with a different button used to fire it (and in some cases, a 1st person perspective). This gives more variety to the game.
The most frustrating thing is trying to choke a guard. You have to be perfectly still, or hardly moving (making it hard to choke moving guards). If you are moving at a walk or run, you instantly flip the guard. The annoying thing to control is crawling, because the controls change depending on what direction you are facing, but luckily, you don't need to do it often.
Challenge: 10 out of 10
God yes is this game challenging. If you liked Metal Gear Solid's weapons and wanted to play them in more bite-sized levels, this game will give you a fix. Just know it will take you many, many hours to master and complete the game 100% with the fastest times possible.
Replay: 5 out of 10
The replay is built into the game's structure. You can complete the level (finally, after many tries) only to find you didn't get the 1st place time score. Guess you'll want to keep playing until you get it. However, once I was done with the game fully, I don't really have a reason to play it again for another decade.
Bonus Points
Level Design +10
The levels are designed exceptionally well, and require some thinking to proceed. Some even include false areas to make you think that it's a better place to go and accomplish the objective. It took some thought to plan and program these levels correctly.
Total Points: 69 out of 80
The entire game is fun if you are just playing to play through each mission (except for any FAMAS and Nikita level) and having no story, is easy to pick and play whenever you want. But, if you are going to try and get the best times, it will get a little frustrating on the Weapons Mode (Targets), and with some levels on Advanced Mode (People). Overall, I enjoyed it, as it caused me to think and experiment with different ways to do things to get a better score.
For help, I recommend watching this YouTube walkthrough http://www.youtube.com/playlist?list=A30E52E32C3ACE16 as someone did a whole walkthrough getting 1st place for everything; useful on occasion when you can't figure out how to get a faster time.