Mechanaflux #1: From Movie Script To Comic Script To Thumbnail To Pencil To Final Colored Page
I present to you a preview of Page 6 of Mechanaflux, my new Fantasy All-Ages Comic Book. Here, I will start with the original movie script, going from its jounrey to comic book adaptation script, to thumbnails, to pencils, to colored, and then to it's final verison. Over the course of the next few weeks will show you the different steps and versions that it took to make this page to completion. First up, here is the rough draft of the script (I can't seem to find my final draft for some reason):
---
First up, is the original Mechanflux script. I wrote this as a 100 page feature length movie for my Screenwriting Class at Southampton College.
MOVIE SCRIPT
EXT: TOLT – FRONT OF WOLT'S HOUSE
The town is on fire in all directions. The sounds of hundreds of MECHEERS stampede through the town.
EXT: TOLT – DARIUS' HOUSE
Darius runs toward his house, carrying the two children. He turns his head toward voices.
MECHEERS
FIND AMULET. DESTROY.
INT: TOLT – DARIUS' HOUSE
Darius closes the door. He runs to his basement steps, but then he hears steam signaling the rise of the arm cannon. A blast destroys his door and wall. The door crumbles to the ground.
ANGLE ON: Darius through the MECHEERS arm cannon.
Darius' blue eyes turn darker blue as green fire forms near his eyes, growing larger as it moves forward. Darius raises his head toward the ceiling. Another green fire ball shoots from his eyes, grows larger as it moves forward, and destroys the upper walls. He jumps into his basement, holding the children, then another blast fires up from the basement and destroys the other upper walls. The Mecheer pushes itself up, but as soon as it straightens its body out, the ceiling falls and crushes the Mecheer. The building burns.
FADE OUT
ROLL OPENING CREDITS
END MOVIE SCRIPT
Now, this is the initial draft. I was excited writing this story, but it was obviously only ever going to either be a $150 million dollar+ movie or an animated movie. However, I realized I could feasibly make it a comic book. A few years later, I would be determined to make my screenplay into comic book form. Of course, that meant rewriting the entire script to fit the format of a comic book. Here is the first draft of that.
---
COMIC BOOK SCRIPT
Page 5
Panel 4 – Pull out to show the entire town (similar to Page 1, Panel 1) only now the entire city is on fire. Fire is ravaging many buildings. Smoke stretches outward.
Panel 5 – Darius is now inside her house, where she lives alone. She is holding the children _____ and ____. Her house is decorated with many spellbooks on the floor, as she is a messy individual, and her walls are adorned with tapestries of landscapes.
DARIUS
We're here children. Soon we will escape this place.
Panel 6 – Darius' front door caves in from a Mecheer's fist.
Panel 7 – Angle On: Darius through the MECHEERS arm cannon.
MECHEER
Attention all Mecheers. Amulet Identified.
Page 6 – Darius' house (interior and exterior), Tolt in flames.
Panel 1 – Focus On: Darius' blue eyes turn red.
Panel 2 – Flames appear near Darius and begin to grow.
Panel 3 – Flames erupt outward, burning the Mecheer and pushing it backwards out the door. This can be seen from the outside, with the Mecheer being flung outside with a few other Mecheers in the vicinity.
Panel 4 – Darius (holding the children) runs down into her basement stairs.
Panel 5 – Outside, the fallen Mecheer (still on the ground) readies its arm cannon, along with other Mecheers.
END COMIC SCRIPT
You can see the only major change is that instead of the Mecheer getting up and having the house fall on it, now Darius simply cuts it down. Originally, I had the Mecheer rising to show how resilient and dangerous they are, but realized that it took up too much time and was cut early on in the comic script phase. In addition, I already have 3 panels of the Mecheers destroying the town and that was probably enough to convey their threat (this appears on the 3 panels right before this page). Also, Darius previously heard the Mecheer before it approached and crushed the house in, to indicate the immediate threat, but that really would only work better on film than on a comic page.
---
THUMBNAILS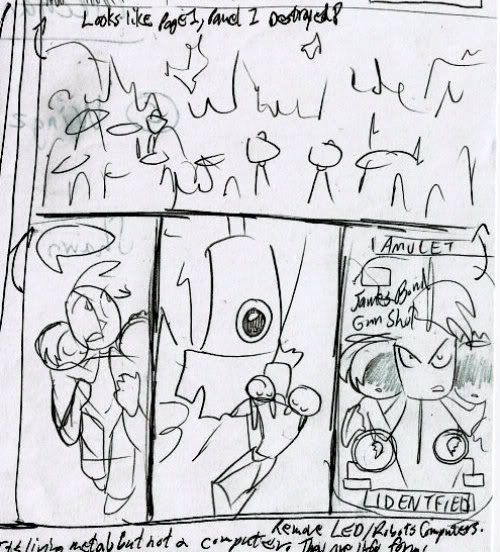 Before the comic book began, my artist made my entire script into thumbnails of the entire issue, and what you see marked on it is me making many notes, in addition to me placing many arrows here and there, moving panels around, and removing others. Page 6 & 7 of the thumbnails are present, but as you will see later, the entire page was condensed a lot more. Also, I finally got the colors of magic down and exact way this world's spells (or energy) are used, so you will later see that Darius no longer uses red energy and/or flames; everyone only uses Energy itself as a weapon. Also, notice that Darius is no longer in her home, as running to her home from the Mecheers give it a better sense of urgency. Should also mention that I changed Darius from a man to a woman, but my artist stated she wanted to keep the name Darius for her.
On Page 6, there is another panel above that I removed, and the same with Page 7, where I removed the bottom panels (so as to avoid too many spoilers and so you only see the process for this page)
---
PENCILS
Above are the pencils of the page. If you can't tell, my artist goes all digital.
---
FINAL COLORED PAGE
---
There it is; the final pages, from writer and artist (over the course of multiple conversations). For some reason, it looks a little brighter than on my computer and in the physical comic book than it does here, because somehow the first half of the issue saved as CMYK format. Something that will have to be altered when I publish this as a webcomic (if I can figure out how).