Video Game Review – A Space Shooter For Two Bucks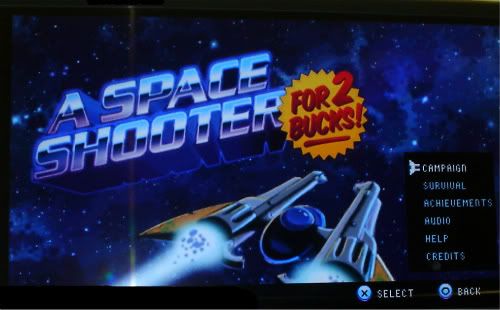 A Space Shooter For Two Bucks was available for $2.00 on Playstation Network (or free for a limited time with Playstation Plus). So, is such a small and free game worth the time and investment?
You are first introduced to a childish bully picking on a geek in school. The bully makes it know that he wants to grow up and kill aliens. Flash-forward to the future, and we find that our main character is said bully, now in charge up a spaceship that can destroy aliens as he pleases.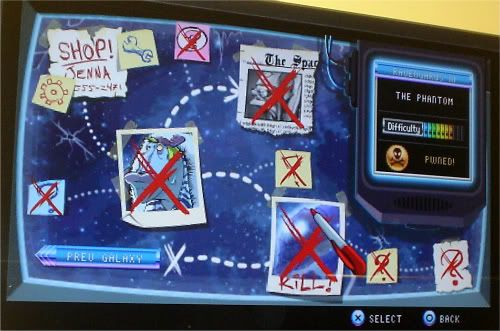 Chose your level; you only to need to defeat 3 on this map,
but the other levels have money and give you 100% completion.
The story is laced with humor, too. You are given a holographic high-class butler in a space upgrade, who serves to make subtle references to his bosses horrific methods and killing madness. Yes, your character is bloodthirsty and loves to kill all aliens The alien boss encounters are also encountered with humor, as is the weapons shop, as your Commander is constantly trying to win over the weapons' dealer by mentioning his latest space conquests.
As for the game itself, it is a space shooter, exactly like the name implies. You start off with a mere 1 bullet shot. Every ship (and asteroid) destroyed will drop you 1 of 3 types of currency. When you are very close to the currency, it will be absorbed into your ship. The first thing I got for it was a vacuum upgrade so that money further away would be attracted to my ship so I could then buy even more stuff.
There are many upgrades to collect, and you will have to collect many of them. By the time I had finished the game, I had purchased a 7 gun shooter, making the levels easier to go through (and collect more money) and defeat bosses easier.
You start with a special weapon called Overdrive, which accumulates the more damage you take. Once it's full, you obliterate the entire screen with a red rave. Once you defeat the bosses, you will also receive their weapons, such as a black hole which sucks in bullets and ships, a fire gun, a freeze-the-entire-screen gun, mini-ships which circle around you, and invisibility. And, each of these weapons is upgradable to last longer and obtain more use of at the shop.
That's all you will do the entire game; shoot everything in site, defeat a boss, buy an upgrade. I don't normally play space shooters, but this game was easy enough that I could enjoy it. There might be many enemies and bullets on the screen, but even if you miss one, you still have 9 hit points left, so you don't have to worry about being hit once, dying, and restarting the entire level over. Plus, there is always a check point before each boss.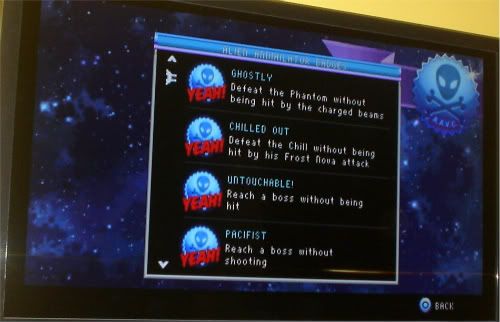 There are a few trophies to extend the gameplay, such as boss challenges and those listed above.
Story: 7 out of 10
The writing is very comedic with some good and humorous dialogue made for every boss, the start of every major level, and the exchange between the Commander with the Shop Owner and Space Butler.
Challenge: 10 out of 10
The game is easy enough for people who don't play shooters too often, but it also has 4 difficulty settings, so that the hardcore shooter fan also has a challenge for themselves.
Music: 8 out of 10
The music is much better than I excepted for a Playstation Mini game. The opening theme is probably the most memorable.
Fun: 15 out of 20
The game is fun, but only in small doses, knocking it's rating somewhat.
Controls: 10 out of 10
All the controls are responsive (necessary for avoiding enemy fire and ships non-stop), and all weapons are easy to use, including the special guns.
Graphic: 7 out of 10
The graphics for the characters and bosses are good detailed 2D art. The game itself that you play on, though, is a little average. It reminded me of a shooter I played on my Windows 95 many years ago, and looked about the same.
Replay: 8 out of 10
There is an Escalation Mode where you fight an endless wave of enemies. Plus, you might go replay every level again to buy all the upgrades, and…
Extras: 5 out of 10
In addition to the Escalation Mode, there are 4 difficulty settings so you can improve your skills by accepting a harder challenge.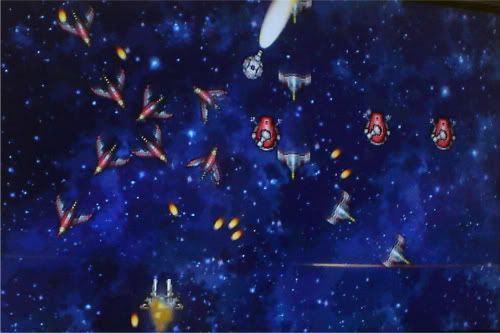 Enemies are numerous and follow a pattern; they are never too excessive to cause frustration.
Bonus Points
– 3 Collection
You will have to play every level at least 3 times to collect the money needed to upgrade and destroy the final boss. You will eventually discover which level has the most money in it and just play that one multiple times; not very fun.
-3 General Repetition Fatigue
There was only so much of this game I could take in an hour before turning it off.
+ 10 Cheap Cost
The game is definitely worth the price. If you are new to the space shooter genre, or just want a fun distraction, you can't really lose money on this one.
Total Points: 74 out of 90
Generally, I would recommend A Space Shooter For Two Bucks, as it is very polished, has comedic dialogue to add flavor to the madness of the shooting, is a good shooter experience, and sometimes it's just fun to blast aliens to smithereens.