Video Game Review – Star Ocean: The Last Hope (Playstation 3)
North American Cover
European Cover
Japanese Cover
Star Ocean: The Last Hope, is an amazing action role-playing game. As someone who has played many role-playing games, I wanted something different than the usual turn-based game-play, and wondered if there was anything unique on Playstation 3. I was not disappointment when I starting playing. If you own a PS3 and are looking for a good role-playing game that combines the old with the new, this one will keep you busy with it's insane length.
Star Ocean is an action role-playing game. What that means is, there are no turn based battles. When you encounter a wandering monster on the game map (which is always visible so you can avoid them), you will be transported to a battle arena (with walls) where you will fight the monster you saw plus many others.
You start out with a sword-wielding man, who can attack people head on. You will also learn special moves that require Magic Points (Magic Points are for Magic Users as well as people with Special Moves only), and you can link those special moves to the R2 & L2 buttons.
You can run around the battle field, but you will always have an auto-target on the closest enemy. If you hit the attack button, your character will run toward that enemy and attack in one motion. You will have to move away from the current monster to target a different enemy. In addition, enemies also target you; they will keep hunting you even if they are attacked by someone else, and only change their prey if someone different is directly in front of them.
Your 2nd character is an Archer, and she is used for long-range attacks which are very impressive the first few hours of the game. Also, you can rush into battle and attack, but your defense and fists are going to be weaker than your sword-wielding companion.
There is also a form of attack called Blindside. When an enemy targets you, you can hold down the Circle button to start glowing. After 2-3 seconds, your character will glow brighter. At that time, tap your joystick in any direction while your finger is still holding Circle to run fast around the enemy and attack him from behind for double the damage as normal. This only works in close range combat, and if you are too far away, you character will only jump in the direction you tapped the joystick.
A Blindside only works if the enemy's target on your character is yellow. If it's red, then the enemy is preparing to block you, and if you try to Blindside, he will counter and you will take double damage. If the target is grey, that creature cannot be attacked with a Blindside.
The battle system is fun to play because you will get many characters to join you on your quest, and most of them all move and attack differently in addition to having different spells and special moves. When you get bored with one character, you can switch to another.
Each battle will have you and 3 allies. You can set your AI companions to do 1 of 8 different things during battle, such as attacking without using MP, adjust to the situation, or gang up on enemies. During the battle, you can switch between each companion on the fly and chose to use their spells, special abilities, or attack. When you have more than 4 characters, you can chose to substitute a character for another; even a dead character can be substituted.
Each character can chose 1 of 3 different battle styles. Type-A for close range combat, Type-B for long range, and Type-N (Neutral) for both. However, Neutral gives you no bonus, while A & B will give you various bonuses such as multiple attacks during a Blindside (A) or bigger Defense stats (B).
There is a very useful training simulator on your ship, and I recommend everyone use it to learn the ways of battle.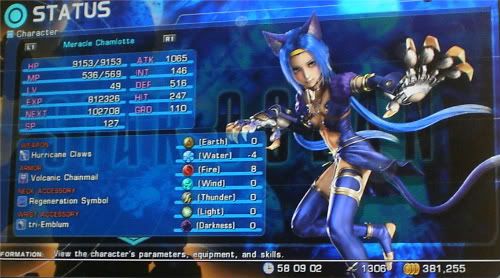 Here's Meracle.
As for the story of Star Ocean: The Last Hope, it is a tale of wonder and hope. You (Edge Maverick) and your childhood friend (Reimi Saionji) are on 1 of the 5 ships commissioned by the USTA to explore space and find a suitable home. Earth is too polluted to sustain life, and will die off in about 100 years.
Yours is not the only planet in danger. The only aliens that Earth knew about are going to lose there planet soon, too. You later find the Mor lost their planet 1,000s of years ago, and the Cardonians destroyed their own planet on purpose. The major theme of the game is exploration and survival.
Watching the game's cinematic actually made me excited to play this video game. Each world is different, and you can't help but be thrilled to explore all these unique worlds. The game can be watched in Japanese with English subtitles, so no bad voice acting will throw you out of the games story.
As time goes on, you will find that there is a lot of story. How much? Let's just say that you talk about as much as you fight. There are very long cinematics and character interactions everywhere, but I enjoy this part of the game; the game really makes you care and feel for all the characters in the game this way.
With all the characters you can interact with in the game, you can affect parts of the story based on what you do. Many times on your spaceship, you can trigger a cinematic or dialogue with a character. However, sometimes there are 2 different options at once, and talking to one character will delete the other conversation you could have had with someone else. Most change is done this way, as there are very few actual dialogue options. One way to open up more character interaction options is to force people to be bunk-mates on the ship.
Placing the brooding anti-hero who doesn't want to care for anyone with the
android who wants to keep feeling alive was probably not the wisest decision.
Also, the game does not take itself too seriously. Though serious events happen, all the characters have positive energy and thinking, giving the game a light-hearted feel throughout. Edge is always positive they will defeat anyone and find a place for Earth to thrive, Mercale is energetic and bouncy, Myuria is very flirtatious and upbeat; and half of the things the characters talk about on the ship always seem to lead to something funny happening. These character and dialogue make you want to keep watching and playing the game.
One thing that is odd about Star Ocean is just how many cliché'd characters there are. You have a cat-girl (who also doubles as a lolita girl), the childhood friend (who is also a female archer), a scantly clad and big-breasted ally, the dark-brooding hero scarred from many battle physically and mentally, a small child, and the android who wants to feel. Despite the characters sounding like generic tropes, each has their own personality and character development, and the story is very unique when compared to many cookie-cutter RPG storylines.
I haven't stated much about the story, only because it's better to seek out the new planets and discover the story yourself, as a lot of shocking events you were not expecting happen, and you don't want these spoiled. All you need to know is your 5 spacecraft search out for a new planet that was recently discovered to see if humans could possibly live here, but something happens during the flight; one craft is missing, and the others have crashed landed. In addition, the local animals are extremely strong, making the planet unsuitable for human habit. You must unite the fallen spacecrafts and try to continue your mission to find new worlds for human civilization to thrive.
One of the worst implemented ideas in Star Ocean is the Trophy system. There are 9 playable characters, and each has 100 different trophies; that's 900 trophies, and that's not counting the game's main trophies. What makes this so ridiculous is that some have completely useless trophies, and I'll list just a few:
1) Kill 100 enemies with a Blindside
2) Perform exactly 999 Hit Points worth of damage
3) Kill 50 Bug Enemies
4) Kill an Enemy with Special Attack X 25 times
5) Spin dodge 500 yards meters (during the course of the game)
I have about 40+ trophies for each character from not even trying. What is the point of a trophy if you can get it randomly all the time?
Another strange thing is side-quests. Many people you talk to will ask you for various tasks, such as making a comb, getting them juice the next town over (because monsters are all over the place), giving them food that you can make with the item creation, and many, many more. What is hilarious is that your character, Edge, really doesn't want to help these people, and it shows in his dialogue and expressions, but being the nice guy that he is, he says yes to every quest. I like how the game designers poke fun at side-quests in RPG's by doing this on almost all of their own side-quests.
Score Breakdown
Story: 10 out of 10
As stated above, the story is fun to watch, you care about the characters, and I like taking breaks from long battles to talk to the characters and watch cut-scenes for awhile. The game also is great at making the light-hearted characters in a really serious situation. The story takes many twists and turns and is good at surprising you as you play.
Music: 7 out of 10
The music is catchy. A lot of it has been paired to be appropriate to the scene. The battle and boss fight music is intense. And what's great, if you can get a Jukebox for your spaceship that plays every song you've encounter up to this point. Sadly, most of the songs aren't too memorable.
Challenge: 10 out of 10
The game can be challenging, and when you beat it, there is a Hard Made. However, I would ignore the Monster Jewels completely. If you kill an enemy enough times (i.e. grinding) you can make a bracelet with a power from that monster. However doing this will cause you to level up quicker and you will be too overpowered for the next level, removing any challenge from the game.
Fun: 20 out of 20
See the review.
Control: 10 out of 10
The controls are easy to understand and use. You can easily fight without the instruction manual and training room, but you should still use them.
If you want to control your spellcaster, and when they were an AI they already started a spell, you have to wait for them to finish before you can control them. You cannot set an AI character to not use their Burst mode. These are the only two things I had a problem with on occasion, but I do understand they they are like they are.
Graphics: 10 out of 10
The game looks gorgeous. You explore many unique planets, all with their own rich environment. Not only that, but those environments are covered in snow, grass, and sand. The sun brightens areas more than others. The shade of trees above are everywhere. Then, even the places you can't explore are very detailed; the background. When you reach a dead end at a level, sometimes you can see far into the distance where you were an hour ago, or an entire continent that you will never be able to play; all this attention to detail is greatly appreciated and give the impression you really are in a massive planet.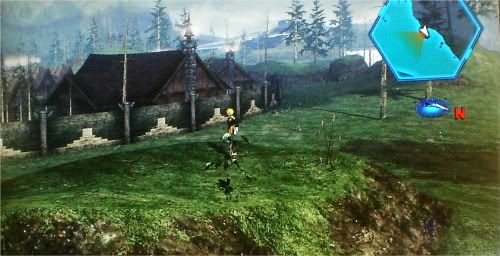 Looking forward, you can see your spaceship far in the distance.
Also, notice the shade from the clouds above you.
Tap the camera to the right and you will see the snow-covered mountains.
It will take 3 minutes to run to this building (and that's without enemy encounters).
Replay: 10 out of 10
The game has multiple ending based on the way your characters interact, and I know it has a Hard Mode and a 3rd, unknown mode (this review is based on 70 hours of gameplay). Trying to find the different endings, as well as playing it even harder will cause me to play it again.
Extras: 10 out of 10
You can find many extras on the ship. You can get an item dispenser, a Jukebox, a healing platform, a love potion air freshener, and more. The Item Creation System to me is an extra, as you don't need to use it to complete the game. You can create many items by putting up to 3 characters together and having them figure out items to create. To make items, you will need random things you find in the game world. You can also earn extra money this way as shopkeepers occasionally want to order items that can only be made by you.
As stated above, there is a different difficulty level for an RPG. How common is that?
+5 For Discovering That 'New' Feeling
I like this game because it feels like being a kid again. When Jurassic Park came out, everyone was excited because Dinosaurs were going to be seen on a TV! When Lord of the Rings came to theaters, everyone was exciting about Fantasy! Even though many space and fantasy shows and video games are now out, watching and playing Star Ocean re-ignites the excitement of discovering something new for the first time.
+5 Coliseum
The Coliseum is an area you unlock with a Side Quest. In it, you can have every single character fight 100 enemies to get to the top (and you can even fight your own party member controlled by an AI). Get that? That's 900 battles, meaning 30+ hours of gameplay. I enjoy playing with just a single character, as it encourages you to figure out how the character works more and means using different strategies.
-2 For No 2 Player Option
Seriously, why not? This game should have been made for 2, 3, or 4 players. You wouldn't need a split-screen. You could actually play with people in your house (unlike every game made for XBOX 360 and Playstation 3). This is something that should have been addressed in production, or at least the Playstation 3 conversion.
Overall Points: 95 out of 90
Nearly 100 points. My scoring system is only for 90 points, and a game has to have something extra to get near the 100 mark for me.
This game is the best role-playing game I have played in a long time. You have multiple characters that have distinct personalities and character arcs, you have fun character interactions, amazing movie-style cut scenes, two fun diversions with Item Creation and the Coliseum, fun real-time combat, and multiple characters with their own unique fighting system.
What looks like a camera flash is actually the game's sun reflecting off something in the distance.
Your screen will actually turn 75% blinding white if you look directly at the sun while it is also reflecting off the ocean.
Read more of my reviews at: http://shawnpmurphy.com/?page_id=1586
My reviews can also be found on:
VideoGameGeek / RetroWareTV
/ GameFAQS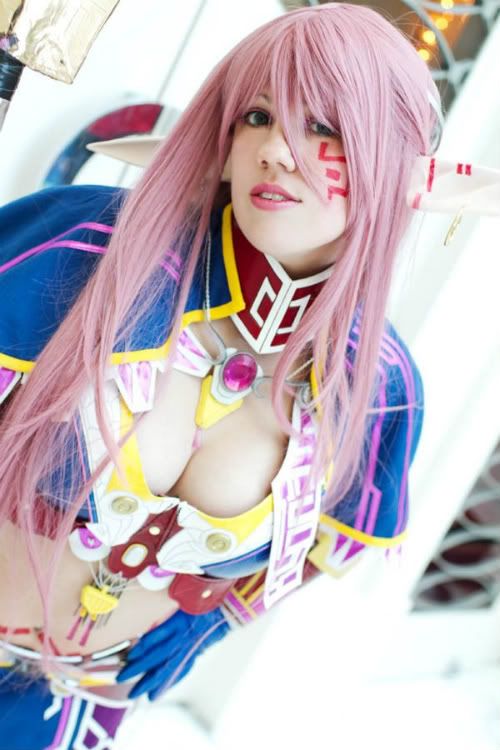 This is the only Star Ocean cosplayer I have ever been able to find on the internet.