Video Game Review – E.T. Interplanetary Mission (Playstation 1)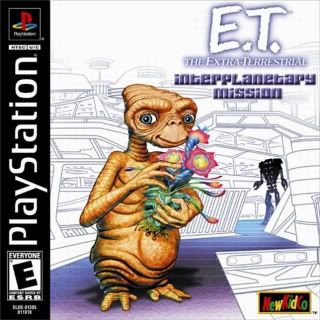 E.T. Interplanetary Mission American Cover
E.T. Interplanetary Mission European Cover
During the time of E.T.'s re-release into theaters, someone thought that interest in E.T. would be renewed, and so new games were created; E.T. – Return to Green Planet for the PS2, 3 Game Boy Color games, a Game Boy Advance game, 3 PC games, and this sub-par game: E.T.: Interplanetary Mission for Playstation.
Before we begin, all pictures below are from the Playstation One version of the game; the internet has incorrect pictures for this on various websites and feature screenshots from an E.T. game that is not this one.
E.T.'s spaceship lands on the Red Rock Planet.
First, the game opens with a spaceship shooting through space which actually looks pretty cool. It lands in a crater, and then you go to the menu. Here, the problems of the game should become apart from the very beginning.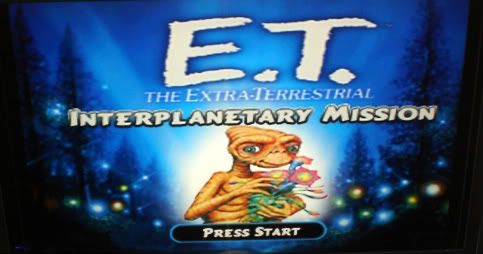 E.T.'s Opening Title Screen
Behold, this picture of ET while the game loads; you might want to grab a snack.
If the game goes into Demo Mode, it actually has to load to get back to the main screen if you hit start. Then, on the screen that says "Press Start", you have to endure another load scene just to get to the menu.
Then, when the game opens, you realize you are in a ¾ perspective world. So pressing the Up button will make E.T. travel in a North-West direction. This is very, very confusing when trying to navigate. The simple task of moving across bridges makes it easy to fall and drown in poison (it's green, so I assume that's what it is).
In addition, there is no music. You might hear some birds chirping and some grunts from enemies hitting you (including E.T. making an arousing sound of some kind when he picks up flowers), but never any music. Did they try to turn this game out before the re-release in theaters and DVD? Didn't the designers ever hear of the problems of the last E.T. game in the 80s? Apparently not, and what you get is another movie-license tie-in that is unpresentable and does nothing to renew a gamer's interest in anything E.T. related.
So, as soon as you begin, a screen will tell you that you can press Circle (O) to heal flowers and collect them. That is the point of the entire game. The manual makes it clear your mission is to collect endangered plants across the galaxy in what amounts to a fetch quest for the same item over and over again.
The next level displays your telekinesis power (Press X), in which you control a circle on the ground that picks up objects then moves them where you want (usually in a circular pattern). You can also pick up items, though I wonder why this is necessary when you have telekinesis, as you only ever pick up one item as a time, and this is because ET can't walk while using telekinesis.
Your last ability is the power to use your heart (Triangle). The heart glowed in the movie, so it must have special powers. It projects a red wave of love, that fills creatures with so much love for you they stop attacking (ok, they stay in place, or are 'stunned'.) Some creatures will actually flip on their backs and be helpless, as if you used telekinesis instead. And, if you hit a creature with this attack a 3rd time, you will kill them by giving them massive heart attacks (it's the only explanation).
Learn to kill small woodland creatures with the power of heart,
instead of assembling them to take on environmental polluters.
E.T. can also run, and it looks ridicules. I know it was intentional. I'm surprised at how the makers of this game liked the movie, and incorporated many nice touches throughout the game such as the telekinesis, his healing, the phone-making, and even the heart power is taken from an image instead of just something new. Aside from all the negativity I've given the game, you can tell the designers liked E.T., but most likely were new, or were under a very strict schedule.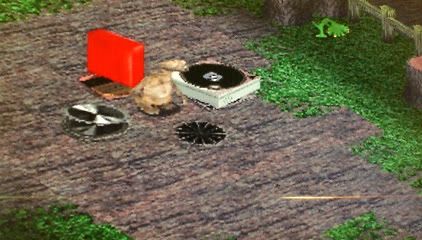 Using E.T.'s invention from the movies shows
the developers actually tried to incorporate elements from the movie.
Turns out this was their first game. Since then Santa Cruz Games have only made this: Igor: the game [based on a movie], Dora the Explorer [a TV series for kids], and the Nintendo DS games Godzilla Unleashed: Double Smash and Tomb Raider: Underworld
The camera is a problem, too, as it likes to jerk itself in the direction your head is facing. If you look to the right, the screen will pan quickly to the right, giving lots of motion sickness to kids and making it confusing to remember where you are as the screen moves faster than your brain can process.
Also, you can collect E.T. coins for extra lives, and you have an energy meter of 100 flowers, which you can replenish with other flowers. You will collect flowers, and flowers only, the entire game, and then you die (inside and outside of the game).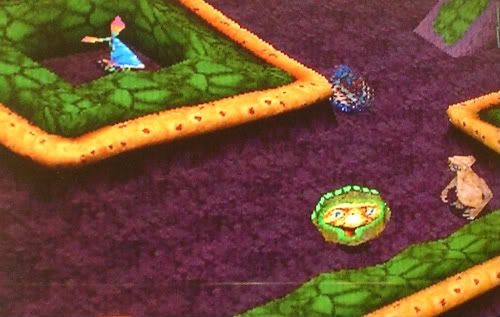 E.T. finds himself.
The only variety is when you have to run away from large enemies by flailing your arms in the air crazily, or when you 'fight' a boss. The boss only involves running for your life followed by using telekinesis to turn on a battery or something that can kill him for you. Plus, some enemies later in the same have a super E.T. detector and can sense you off-screen and come running; and will usually hit you before you have a chance to react.
At least you explore 4-5 different world, each with their own scenery, though I imagine that most people give up before completing the first planet. The last planet is Earth, and you must construct your phone to contact home by collecting a different part in each level. And, the police even have clubs instead of guns (the FBI agents have guns, though).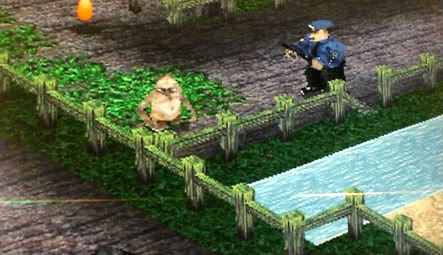 Watch out for human's; they sprint faster than God
and love beating small, defenseless aliens with black sticks.
Then, the end of the game; what do you get for all your pain and suffering, the trials and horror, the 4 days spent collecting flowers, falling into pit after pit, and never having the ability to run away from battles because enemies have a faster speed and longer vision and usually end up killing you very quickly? What do you get when you finally complete your Interplanetary Mission? Why, you get the same CG scene you saw at the start of the game; played backwards. I…really don't think I need to explain the inherit disappointment here.
Behold: your reward. Look familiar?
Onto the breakdown.
Story: 1 out of 10
The only reason this gets 1 point is because the opening space ship scene is cool, despite being very short. Other than that, collect flowers, win.
Music: 1 out of 10
The opening theme is the theme from the movie, but after that, there is not a single music track in the game (there might be for bosses, but I can't remember). It's all ambient music and sound effects.
Challenge: 5 out of 10
Ok, so maybe the developers realized the game was too easy, when one of them stated that making it ¾ perspective (you know, like Q-Bert, only in a 3D realm; yeah, makes sense, right?) to add some challenge. I really have no idea what they were thinking.
Fun Factor: 2 out of 20
This game is not fun. It is even less than boring as all you do is give small woodland creatures heart attacks, heal a flower, collect it, then go to another planet and do it again. The bosses at the end of each level try to add variety, but those are simply levels where you need to outrun the boss, hit a switch (ok, technically you telekinetically lift a brick and place it on a button), then run past the boss risking life and limb and repeat.
Control: 2 out of 10
The controls themselves are very simple, such as only having 3 button options, but due to the angle of moving with the control pad, wandering around the map is a chore just to go up an incline at exactly the right angle. If the controls were changed, you'd be holding two buttons down all the time, and good luck playing with an analog controller.
Graphics: 3 out 10
The graphics are serviceable, but there isn't much here. I don't like to grade a game based on it's graphics, but when you use the same graphic for ET as the 1-Up, the level end platform, and the lives in the corner of the screen, I start to see repeated patterns used to save money and time. At least every world has a different E.T. loading screen. Plus, the levels themselves feature the same patterns over and over again that you'll forget how many levels you've already beaten on a specific planet.
Replay Value: 2 out of 10
The only way I see this game getting played again is if I can convince a friend that it actually is a great game, and force him to play it just to see him go insane. I could always send it off to one of those funny video game reviewers, but it might be too bland to even make funny.
Extras: 0 of 10
There are no codes, no hard mode, nothing.
Bonus Points:
+2 – For hilarious animation
+4 – Competent level design
This isn't exactly a surprise; I don't like this game, even though I forced myself to play through the entire game. I wanted to quit after beating the first world, but only continued playing because I like to finish what I start, no matter how boring or bad, unfortunately.
It gets a bonus 2 points because when E.T. runs it looks so hilariously animated that it made me laugh. And, the levels are actually well designed for the kids game this tries to be, and had the controls been fixed, this could have been an average (and easy) kid's game and been a nice starter game.
I am seriously scared to even attempt the other games for PC, PS2, and Game Boy.
Total Points: 22 out of 90
Stay away from this game.