Video Game Review – Blade 2 Review (Playstation 2)
American Cover European Cover
As soon as you turn on Blade II (PS2), you see a Blade II movie trailer. This is the first time I've seen a licensed game do such an obvious advertisement. Blade II is a damn good movie, exceeding the first in terms of story, action, suspense, horror, and …wait a minute, this is the review for the Blade II video game.
At first glance, you'll see 4 levels you can chose, but that is a little deceptive. The 1st level is Whisteler's training area. It has probably the most pointless job you have ever had to do in a video game, follow glyphs around as they appear. You also learn to jump, though you'll never need it except to jump over hordes of vampires that have surrounded you, as if the designers realized that without it you would die instantly if more than 6 vampires teamed up on you. The jump is stiff, too, and is always a preset destination away. Also, Whistler is very annoying here, as he'll curse at you for being an idiot for taking too long or making a mistake. Anyway, this whole stage is pointless, but hopefully the game won't be, right?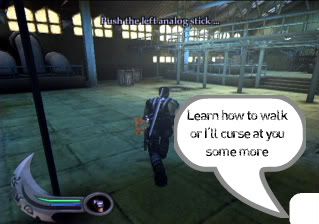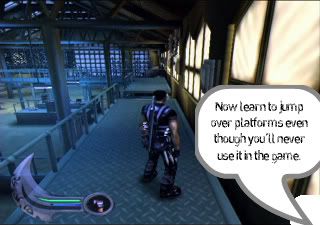 There is a structured story here, but it's divided into 3 parts, each taking place at a different main location. You can chose them in any order, though it's probably best to start at the beginning, so it's easier to unlock all the weapons faster.
The game is based on a score system. The higher your score, the more weapons you unlock. However, I found the shotgun to be pretty worthless most of the time, though it is good for clearing many enemies when surrounded. However, I found jumping over the enemies, running away, then turning and firing with a Pistol was easier. the Pistol has a critical hit system sort of like the first game, but I found this mechanic it pretty worthless. In the first Blade, the system worked; here, if you get hit, the target lock stops when you get shot, so it's better just to waste a few bullets to kill someone.
Aside from guns, you also have a blue light bomb (from the movie) which eradicates everything from the screen and is the only weapon that can kill Reapers. If you don't happen to have this weapon on a level where there are Reapers, you might as well give up, as the Reapers are relentless and follow you everywhere.
My favorite weapon is the Glaive (pictured above), Blade's weapon from both movies. You cannot move while using it, but it is really powerful. You hold down the Circle button and wait until a target lock appears on a vampire, then let go of the button to behead him. If you hold the attack button longer (nearly 4 seconds) it will target every vampire in a certain radius and kill them all. It becomes useless the last 4 levels since you're in such tight corridors, but it's a must have for the game, since you'll run out of bullets most of the time and be using your fists, plus, it's just immensely fun to use.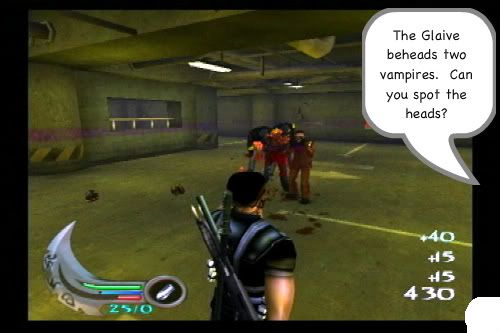 The attack scene in this game is based on the right analog stick. You tap the stick right to make blade kick right. If he happens to be facing right, he'll punch right. This is based on the right side of your television and has nothing to do with Blade's (or the camera's) orientation. This is a pretty cool concept. It's fun to knock vampires back with it. However, there is nothing more too it. You are suppose to move in a rhythm, so that each tap makes the following punch more powerful, and kills vampires fast. This works if 4 or less vampires surrouned you. If there are any more surrounding you, it's not going to work, and you'll be punched and knocked out of your combo.
To attack this vampire, tap the right analog stick in the south-east direction.
Also, fighting in Combos increases your Rage Meter for temporary abilities. Once it is half filled, you can use Blade's sword. Wait a little longer, and you are invincible using the sword. Wait just a tad longer, and you will have both abilities as well as double strength. This feature helps out a lot in situations where you know there are large groups of vampires, or a group of gunmen in a very long hallway. I would never use the first two abilities, however, as your punches will always work better than your sword, and your sword hardly ever attacks forward when you push the analog stick forward.
There is a flaw in the Combo design. The Rage Meter is suppose to raise more when you do Combos, but Combo's kill enemies quicker. If you find a large vampire, don't kill him in 3 hits, instead, tap the stick repeatedly to punch him many, many times, and it will increase your Rage meter almost 3-4 times faster than if you had killed him quickly. A little cheap, and I'm surprised no one figured this flaw out in testing.
My controller broke while playing this, and I wonder if it had to do with the analog fighting, as pressing the right analog stick as a button fires your weapon, and now blade empties out his entire gun or stands with his Glaive and never uses it, making it impossible to move except by jumping.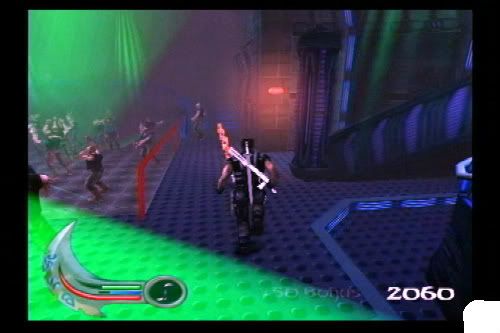 I wonder if I can sneak through this vampire night club by walking directly through it?
Aw, screw it. RAGE, RAGE!!!
Now, onto the Story. Blade II, like Blade I, is not based on the movie, but takes place in the movie universe. Whereas the Blade I video game took place before the movies, Blade II takes place 6 months after the Blade II movie. The story involves you breaking into a corporation that has taken control of a blood sample from an old pureblood vampire. You have to figure out what makes this blood so important. This quest eventually leads you to discover that vampires have not only become soul suckers now, but that they also have created more experimental vampires.
As you progress, the punching system starts out really fun. In Blade I, if you fought with your hands, you were just asking for death, but now, since there is limited ammo, you are always using your hands.
As the game progresses, there are more and more Glyphs hidden around, though I wonder why they are needed, as you unlock everything the first 1/3 of the game.
The challenge starts out very small, and gradually gets harder, You must complete almost every level without a checkpoint or saving. You read that right. I liked the idea for this, as most games are too easy for my tastes today, and Blade II simply says, "Hey, the level was designed to be finished in one sitting." Usually, if you die, it's because you're surrounded or shot to hell by hordes of gunmen, so there aren't really cheap deaths here like in the first game. Usually, you will have to know when to Rage at some harder areas (the nightclub with over 100 vampires in view, or an army of gunmen, for instance) A front on assault toward gunmen is usually a health killer and leaves you vulnerable to bullets. You can do it on 1-2 gunmen, but never anymore than that. I loved the challenge of this game, nothing ever felt broken (except the Rage system).
The challenge is fun, and I only found myself dying at most once or twice for each level, until, the protect missions. These missions are the most annoying in the whole game. First, you have to protect Whistler while he plants explosives, but he won't stop for anything. Luckily, he will stop if you stand directly in front of him, but he moves fast for an old guy with a limp. He has a gun, but he'll likely get shot as you try to race to once side of the sewer to kill a sniper, only to see across the way that he is now surrounded by vampires and is losing health. He's also stupid enough to walk right through poisonous zombies and take damage. Zombies hurt you with their odor, so you can't get close to them. This was a cool ability and I loved it. I had never seen it before.
Unfortunately, you then have to protect a Doctor that has no weapon. Luckily, she follows you instead of walking right into danger, but you can't tell her to stay. I had to go forward and kill a sniper (where she died from my previous play), only to find her getting cut by an electric axe and she was dead in 2 hits. Most of the time you will have to go into a room, then retreat, allowing the enemies to come to you so they don't surrounded the doctor. Luckily, most vampires will attack you first and surround you, with only the occasional vampire deciding to attack the helpless human.
These two missions are the most frustrating in the whole game, and ruin the fun. If you could tell the Doctor to stay, that would be all you needed to make the level easier and a little more fun. As it stands, though, I probably died close to 8 times on each of these levels before finally beating it. One death was particular horrifying. I readied my Glaive and was ready to attack this lone vampire in the distance, only for it to show a close-up of the man beheaded and get a Game Over. At long last, I had finally beaten the "Protect the Doctor" level, only to accidentally behead Whistler where he was waiting for me. What also makes the games frustrating, is that it is very easy to accidentally hit Whistler or the Doctor with your sword if you are trying to use Rage mode to make things easier.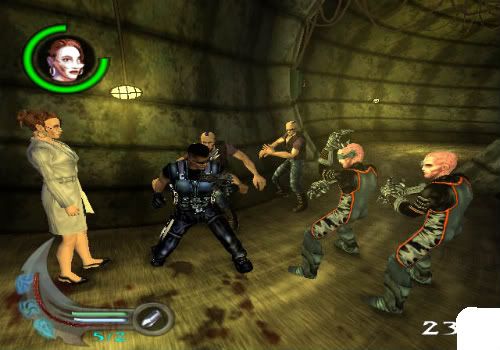 Protect the doctor! Blade could RAGE, but he might cut her up. If you're feeling frustrated,
there is a code to make the Doctor and Whistler invincible.
The soundtrack is pretty good rock and small techno beats, but oh god, I heard the words "That's really twisted" and "Vampire, who said I was a Vampire" almost all the time. They used lyrics in the soundtrack, and used the same song 3-4 times, so you will hear it a lot. Aside from that, the soundtrack is good, that's all. And I haven't even started with Blade. He will say "Keep your friends close, keep your enemies closer" if you kill a vampire while he is stunned (and it switches to a cinematic kill) but it's completely ridiculous in context of the game. Most vampires says "It's the Daywalker", but at least this is necessary, as it often lets you know there is a vampire beside or behind you that you missed when you entered the room.
There are some decent uses of scenery, as you'll go through a parking lot, nightclub, corporation, forest, underground bunker, cave, subway, and asylum. The different varieties in the level design help keep it from getting repetitive even though the enemies and their attacks don't really change. There are 2 new enemies in the 3rd campaign, but it doesn't really matter, they fight the same as everyone else.
There is 1 boss in this game, and he's at the end of the 2nd campaign. He flies around, and you have to avoid his electric attacks and the 4 vampire minions always chasing you (they respawn indefinitely). You can only hit him when he comes down, but at least he's a boss. The final level contains 3 small pathways that leads to 3 different pipes you have to destroy (that houses a 4 story fat man for some reason). But each walkway is guarded by poison vents that radically hurt you faster than anything in the entire game. You have to time your movements through them, and if you attack anyone along the way, you'll most likely get caught in one of the vents blasts. It's anti-climatic, and there is no ending, just images of the vampire compounds with rocks falling.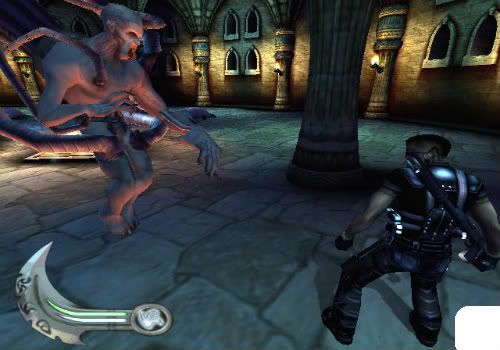 Behold the only boss.
The graphics themselves are very simple. Not really detailed, but they get the job done. However, I do like the fact that everything is breakable. It's great throwing vampires into pillars and having the rocks explode everywhere. Also, in the next to last level, you have caused an explosion, resulting in rocks falling wherever you go, giving you a sense of urgency (plus it looks cool), and electric machines will explode every minute (which you can use to your advantage my luring vampires toward them).
Thought unconnected to the Blade II movie other than the Reaper enemies (which always causes a reset of the level if you forgot to include enough light bombs) and the Glaive, and the bickering between Blade and Whistler felt like it was too overdone, I like the fact they tried something different rather than trying to make something fit in the movie like most games do. I particularly enjoyed the analog stick fighting and throwing the Glaive around. Blade II is fun enough to play through once (ignoring the 'Protect" levels). I just unlocked Daywalker mode, though there are other games to try before this again, but I am glad to have checked it out. Now, will it sit on my shelf forever?
Story: 7 of 10
The story actually propelled you from level to level; you always knew exactly why you were somewhere and where you were going. Also, the story was clear and consistent, a rarity for a movie video game.
Challenge: 8 of 10
Pretty hard, but not as hard as the first game.
Music: 8 of 10 (-1 for Repetitive Vocals)
Average music . The music feels right for the levels, but it loses a point for the ridicules vocal that repeats over and over again.
Fun Factor: 16 of 20
This game was fun to play from beginning to end; well, except for those stupid "Protect the NPC" levels.
Control: 8 of 10
The controls were solid, and everything moved quickly and responded when you wanted it to. The only complaint I have is that you could never slash forward with your sword when you wanted, but that might be a fault of my controller.
Graphics: 6 of 10
Very basic graphics. A lot of the charm from the first game is missing here. You do go to various different locations, but after awhile it all feels rather bland. At least almost everything in the background can be destroyed.
Replay Value: 7 of 10
Well, with a harder difficulty now opened up, it's almost tempting you to play it again, just so you can show the game you can take any challenge it throws at you. So, an above average replayability factor.
Extras: 5 of 10
Eh, not much here, really, just 2 trailers. However, there are some cool codes for unlimited ammo and invincibility, so that gets more points.
Bonus Points
+5 for the cool control stick fighting method.
+3 Beheading vampires with the Glaive (never gets old).
-1 Repetitive vocals.
This gets a total of 72 points out of 100. My stats only add up to 90%, so for a game to get really high, it has to influence me enough to get bonus points to shoot it into 'awesome' status. An above average game based on a movie. Another fun pick, but I doubt most people will agree with me on this game.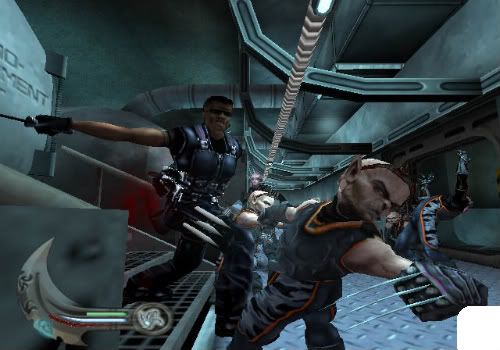 Blade Versus Mini-Wolverine