Wesleyan World Storyline #1 – Freshman Introductions
This is the first strip introducing, of course, yours truly to the Wesleyan World. All 22 people depicted in this comic strip are based on people I knew in college, except for 1 character which I never named because I basically made her the antagonist for myself and my friends in the story.
Sorry about this, but I drew these comic strips in 2005 just for fun, and didn't know anything about dimensions for use on the computer, what DPI was or is used for. And, since I saved these as GIFs (as this is what my friend suggested when I put them on his website) it is impossible to re size them without them looking completely unreadable.
Freshman Introductions 01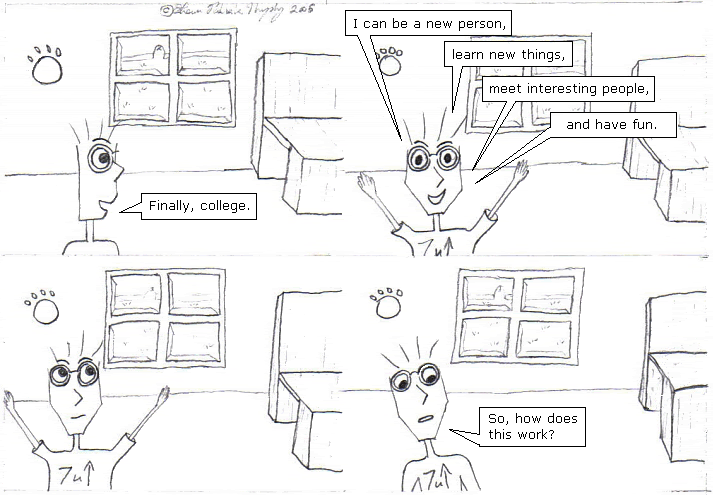 Alternate Beginning
When I originally created a few random comic strips, I realized I needed to have a first comic strip. This was my attempt at the first comic strip, and it introduced Rob Baden (who was not only someone who did a webcomic that took place at Wesleyan, but also the webmaster for Wesleyan World, originally). But, since I wanted to start the comic fresh, so others could read it, this had to go, as it only referred to an older comic series that only a few people knew about.
I knew I wasn't going to use it, so i didn't realize it until now that I left all the typos in because I never thought it would be seen.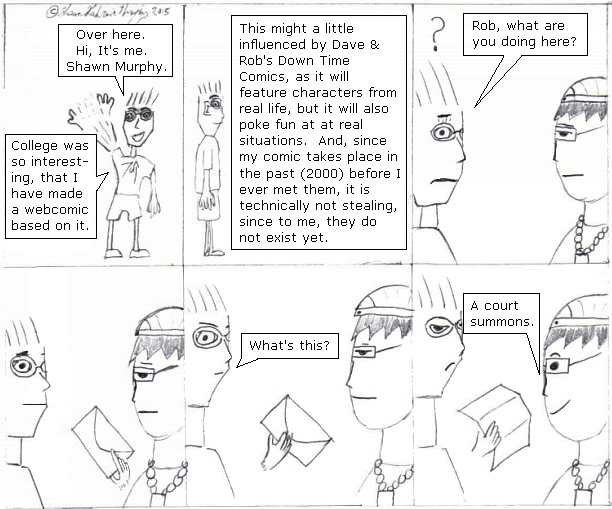 ---
When I moved from West Virginia to New York for grad school, I began to feel a little nostalgic about undergrad college and started to miss all my friends. So, rather than just think about it, I came up with some ideas for a few comics about me working at the radio station along with all the Relationship strips.
I had asked my friend Rob Baden (a fellow Wesleyan Alum) if he knew anything about making a website. A few weeks later, he said he anticipated me asking about hosting my comic on his website, and had it already prepared. One of his friends even designed the logo for me.
I started out introducing all 21 of the 22 people I knew in college. A lot of characters; in fact, too many character. But then, I was only doing this for myself. It was nice, though, when some of my friends wanted me to fast forward a year or two so they could be in the comic.
Eventually, I was able to put out 3 and 1/2 years of strips at 1 every week. The last storyline I wrote while I was in Baltimore, having just moved here recently, and without a job. I could tell I was maybe getting a little bored drawing it, but I really wanted to keep writing it. Eventually, many film related projects and actual comic book projects came into creation, leaving me no time to work on Wesleyan World.
The original vision was for a 20 year comic strip, with every 5 years changing into the next grade at school (years 6-10 would have been my sophomore year). It was a little too ambitious, but then i couldn't have predicted where my life would have ended up back then, and so the strip for now is no more. I'd love to finish it one day, but for now, enjoy these herein.
---
Freshman Introductions 02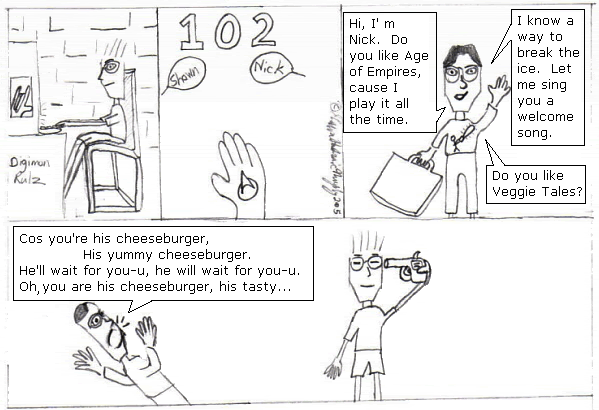 ---
Freshman Introductions 03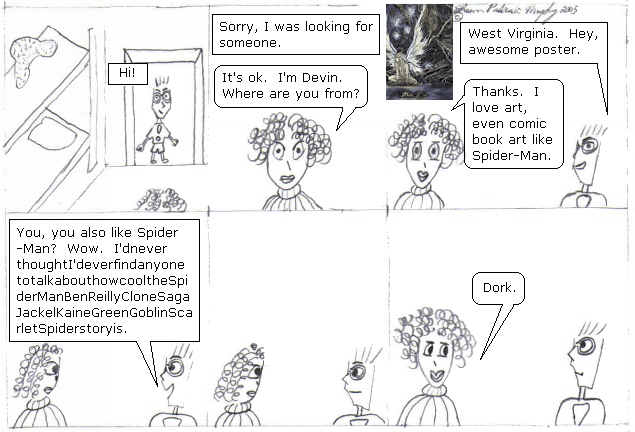 ---
Freshman Introductions 04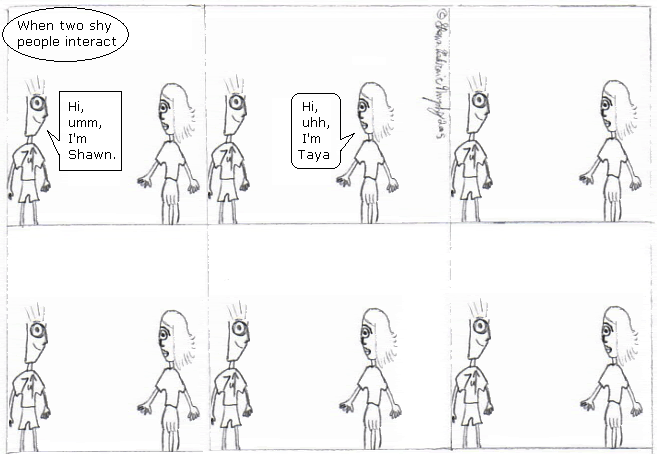 This is one of my favorites.
---
Freshman Introductions 05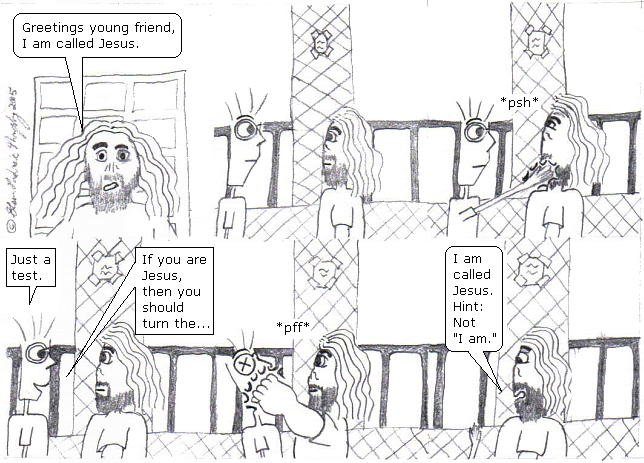 Alternate Introduction
This is a crazy introduction. First, it made me realize that I had used an author character, and I did not want the main characters to think they were in a comic (even though having an author Shawn talking to a character Shawn might have been a cool idea) as it was suppose to be loosely based on my real life, so this author had to go. Plus, when I researched more comics, alot of people were using author characters to the point it just wasn't funny or good anymore.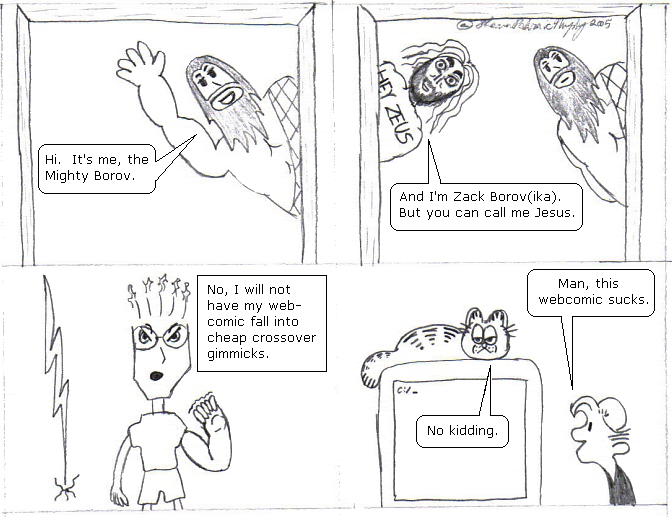 ---
Freshman Introductions 06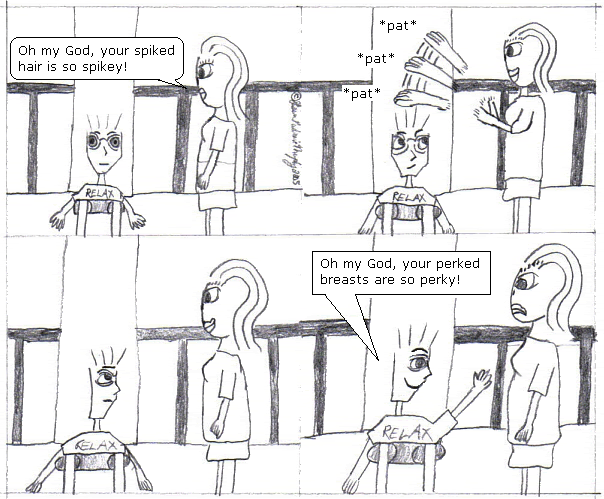 ---
Freshman Introductions 07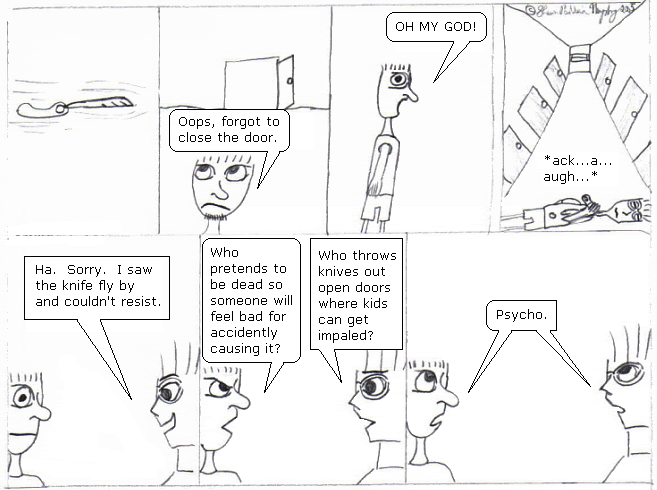 ---
Freshman Introductions 08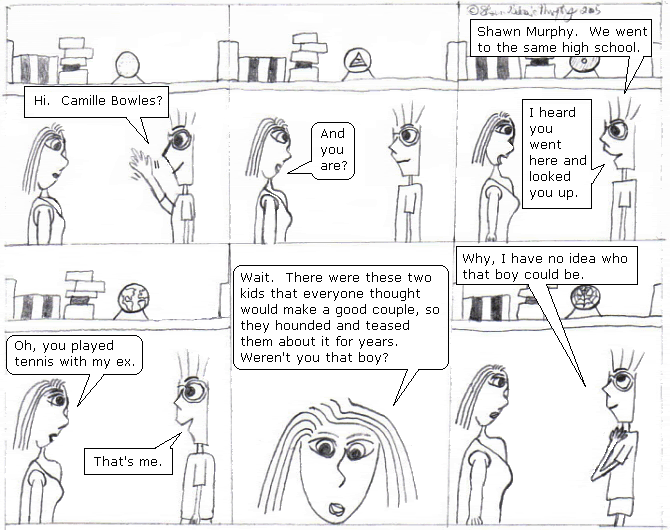 ---
Freshman Introductions 09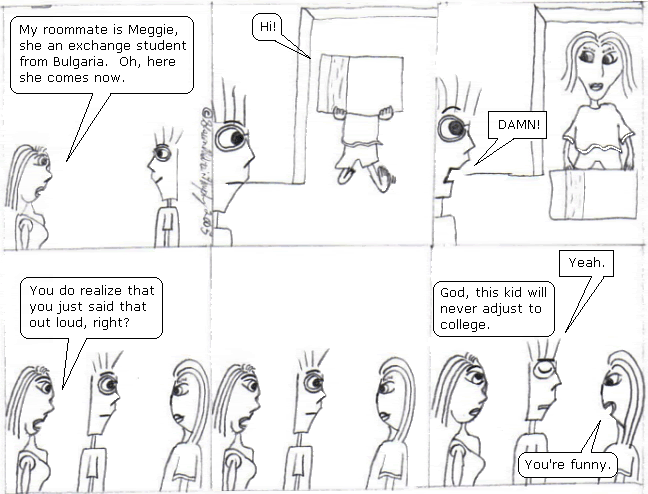 ---
Freshman Introductions 10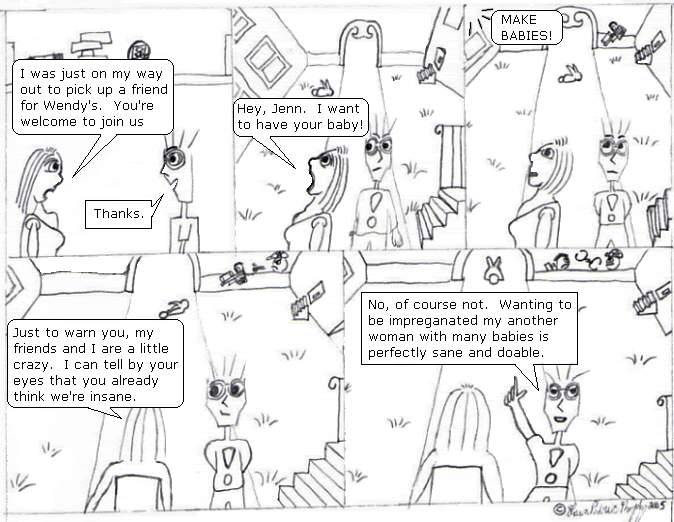 ---
This is one of the more funnier ones I created for the first storyline. I was never this inept at college, but writing it this way makes for more amusing punchlines.
Freshman Introductions 11
---
The pictures on the wall are 1 page from each of the 6 different comic strips that appeared on Downtimecomics.com. I had tried to write one about a Demon Slayer, but it was way too ambitious; we only created the first 11 strips.
Freshman Introductions 12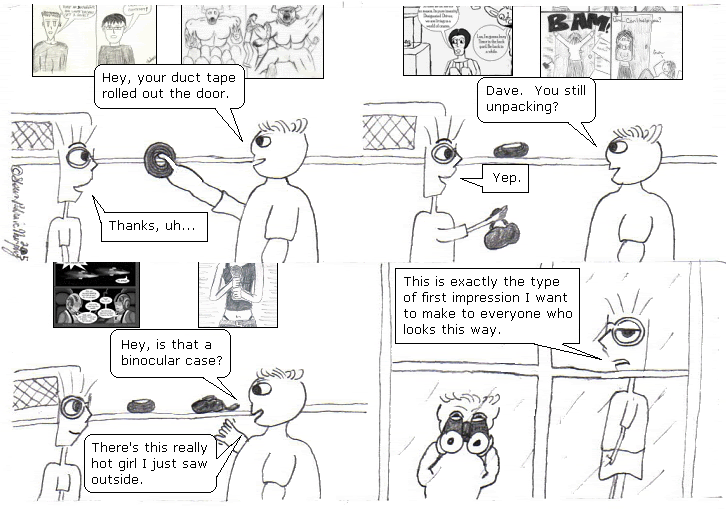 ---
Freshman Introductions 13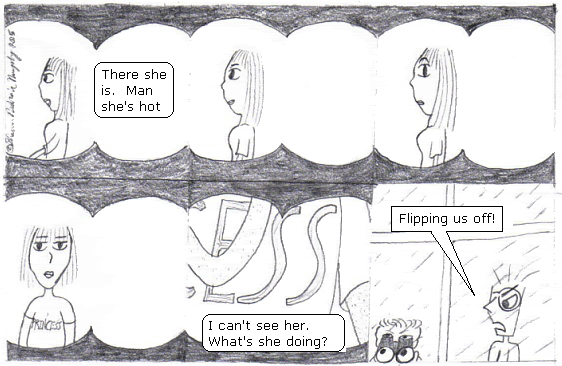 ---
Freshman Introductions 14
---
Freshman Introductions 15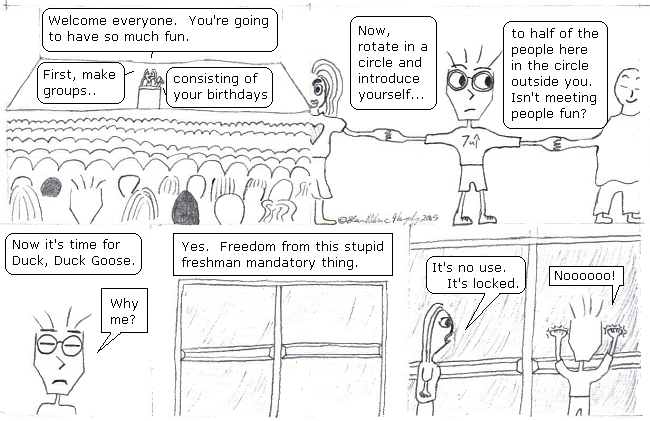 ---
Freshman Introductions 16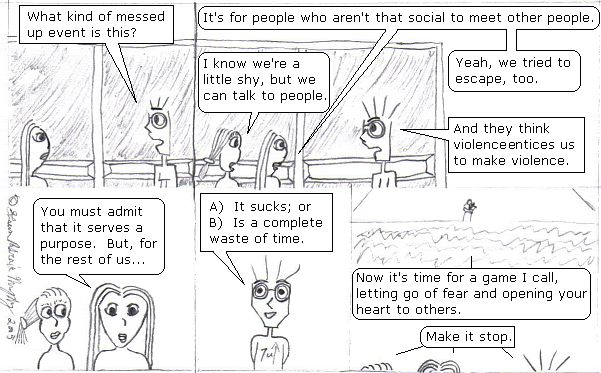 And, don't ask how I know about this, but there is a board game called "Love Is Letting Go Of Fear" Seriously. I have played it once, but I have blocked that memory from my mind.
---
Freshman Introductions 17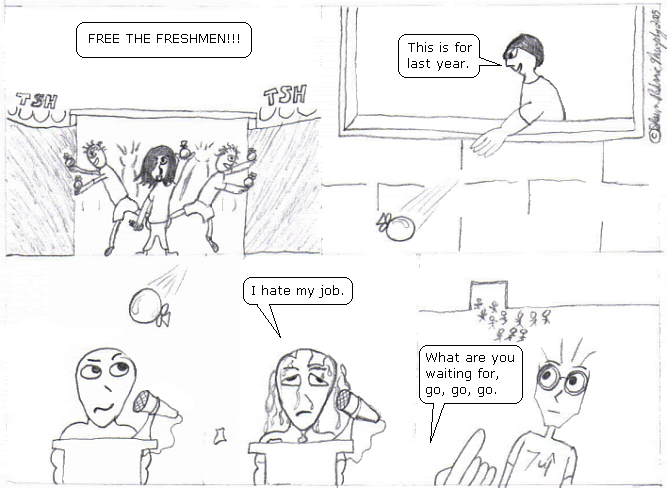 ---
Freshman Introductions 18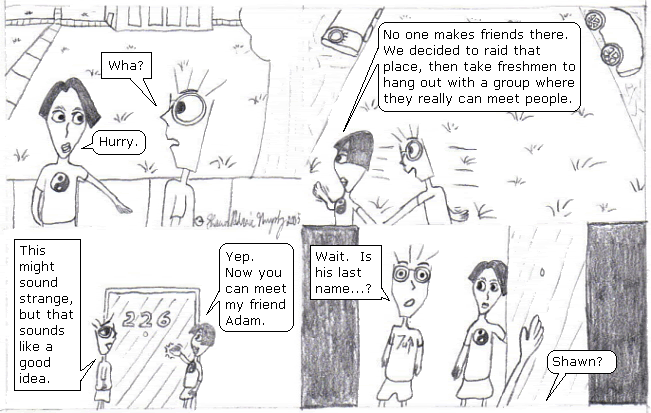 ---
Freshman Introductions 19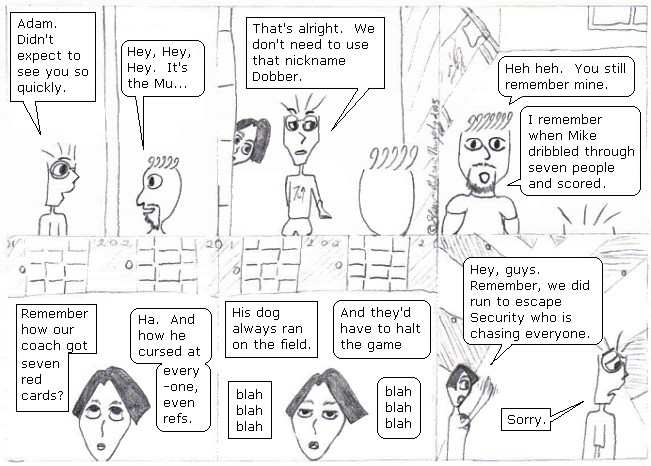 ---
The Might Borov is a character that Rob allowed me to use in my comic strip. The Might Borov and Zack are both based on the same person, which is why they even claim to be the same person in the comic strip. However, Zack was made for my Wesleyan World universe, The Might Borov was in Rob & Dave's Down Time Comics universe; though both take place at West Virginia Wesleyan College at roughly the same time period.
Freshman Introductions 20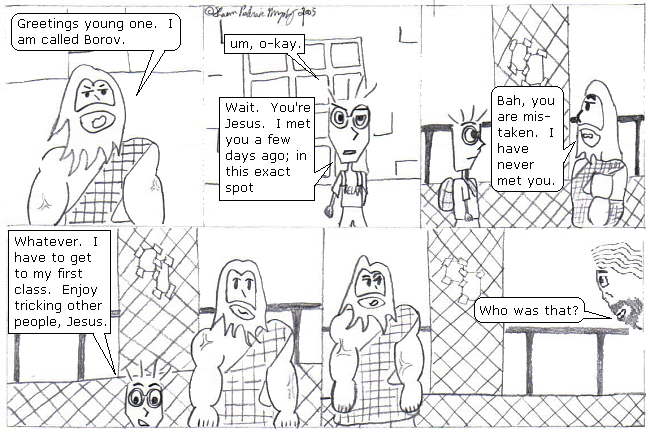 ---
Freshman Introductions 21
For some reason or another, I use to purposely put continuity errors in the comic strip to see if people would notice them.